This Family's DIY Halloween Social Distancing Hack Is Going Viral
The candy chute is a thing of beauty.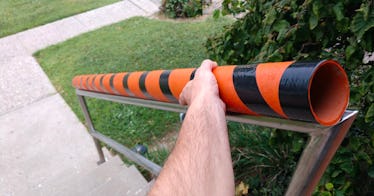 Andrew Beattie/Facebook
In Delhi Township, Ohio, a father and daughter recently came up with an ingenious invention — an invention that might just save Halloween. But what did they create? Well, they created a tool that would save Halloween, once and for all, from the tyranny of COVID-19 — and help kids across the country trick-or-treat safely. Andrew Beattie and his daughter joined minds to create a very simple, very cheap, and very fun way of distributing candy, without violating social distancing rules or putting people at unnecessary risk of COVID-19.
But what is this aforementioned tool? It's a candy chute! Beattie and his daughter grabbed a long, 6' cardboard shipping tube and a few tools he already had (probably orange spray paint and black duct tape, based on the design of the chute) and got to work. He said it took about twenty minutes — and that it might help those who are a little worried about walking up to people's doorsteps and getting candy feel safer doing so. The idea, for Beattie and his daughter, is that when he hands out candy on All Hallow's Eve, he'll wear a mask, and rubber gloves, which will be changed frequently, and shoot factory-sealed candy down the chute. "I want our youngins' to be able to have some sense of normalcy, and maybe a little bit of exercise in this madness," he wrote, "and I've put a LOT of thought into how to do so safely, and I appreciate your concerns."
He added: "If this candy chute makes things easier or safer, AND gives those with mobility challenges more of a chance to participate, then what's the harm? An ounce of prevention is worth a pound of cure, ya know."
And that's definitely true. The chute, which is spookily decorated, will likely be a hit among kids and their parents who can count on at least one house taking the pandemic very seriously. And, since the project was so simple, it appears that basically any parent could put this together in 20 minutes ahead of Halloween, which is still over a month away. Party on, Halloweenheads!