The Ultimate Family-Friendly Fitness Challenge Is Just Days Away
Helping others does a body good.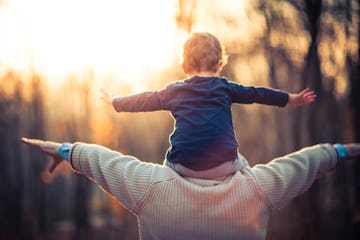 supersizer/E+/Getty Images
Summer is winding down, and all too soon, we'll find ourselves back in our more rigid back-to-school routines. But for families looking for more ways to keep moving and get outdoors even as the kids head back to school, Run Across America is hosting a national family-friendly fitness challenge that's the perfect way to transition into fall.
Run Across America is a social enterprise that creates opportunities to support great causes while fostering community — and in just a few days, its Fall Frenzy Challenge will kick off. The Fall Frenzy Challenge is designed to motivate people to move more by having participants track their fitness activities to unlock prizes and raise money for a good cause.
Starting on August 23, participants will set a distance goal, promising to log 50 kilometers (or 0.45 miles per day) or 500 kilometers (or 4.45 miles per day) of activity before the end of the challenge on October 31.
"Run Across America started in May 2020, as a group of friends came together to create something positive out of the pandemic," Jason Kahn, co-founder of Run Across America, told Fatherly. "Our goals are to inspire people to move, create community across the country, and support great causes like Feeding America along the way."
The best part of this challenge — and what makes it great for the whole family — is that tallying your total distance doesn't only mean running. "While our name says 'Run,' any kind of movement is welcome: running, walking, cycling, rolling — even kayaking," Kahn explains. Indoor activities, like using the treadmill, elliptical, indoor rower, or stationary bike, are also acceptable.
Your distance levels are easy to track through the Run Across America app, which keeps an updated tally of how far you've gone based on your selected activities. According to Kahn, more than 20 activities are available to track through the app, and you can stick to one activity throughout the challenge or switch it up daily if you want variety.
The app also lets you connect with family and friends to form teams and set distance goals, and has fun badges to celebrate milestones met, such as trying new activities, unlocking distance milestones, and celebrating consistency. And these benefits last beyond the Fall Frenzy, too.
"Fall Frenzy 2023 includes a Labor Day 5k challenge, a Pumpkin Run, and three other bonus challenges," Kahn says. "And, of course, no event would be complete without race merch — Fall Frenzy includes a choice of an athletic tech shirt, commemorative medal, or vacuum-insulated Miir tumbler."
To participate, individuals or families can sign up via the Run Across America website. The registration fee — which covers access to the events as well as merchandise — will raise money by matching donations to Feeding America, the largest charity working to end hunger in the United States.
"More than 68,000 people across the country have logged more than 7 million miles in our challenges since we started," Kahn says. "We've raised more than $750,000 for Feeding America since 2020. That's more than 7.5 million meals provided for people facing hunger in our communities."
And while helping to support others, you'll also be doing yourself a world of good.
Research has found that incorporating small amounts of physical activity into daily routines can provide significant health benefits, lowering the risks of chronic diseases and promoting overall well-being. And you don't need to be pounding out HIIT workouts or lifting heavy to seek benefits. Slow, consistent movement — which for many families is more realistic and achievable, like the evening walk or the stroll home from school — has some serious benefits.
For example, one study found that walking for just five minutes every half-hour during the workday, even at a slow pace, lowered blood pressure and blood glucose levels. A separate study published in the Journal of the American Medical Association in July found that even people who exercise intensively only on weekends (a.k.a. the weekend warrior approach) experience similar health and cardiac benefits, such as lowered risks of stroke, heart attack, and heart failure, to those who exercise regularly throughout the week. And another study by the University of Sydney found that even having as little as five minutes of vigorous activity per day could lower the risk of certain cancers by up to 32%. The "Vigorous Intermittent Lifestyle Activity" (VILPA), as its called, involves energetic everyday activities like carrying heavy loads or playing with kids for about a minute.
These studies challenge the notion that exercise has to be intense — or time-consuming — to be beneficial, highlighting the value of consistent and varied movement and why challenges like the Fall Frenzy can be an excellent option for families.
Run Across America has evolved over the years, and they're looking to expand and offer more. "We will continue to evolve the event to keep motivating movement with the Run Across America app and supporting our communities with great partners like Feeding America," Kahn says.
So, remember, being active doesn't mean you need to tackle Mount Everest; it's all about having a blast and striving for realistic goals while embracing wellness as a family. Get out there and let the Fall Frenzy begin!
For more information on the Fall Frenzy from Run Across America, including how to register, visit NationwideRun.org.