Shocking Report Says One Popular Car Seat Manufacturer Knowingly Sold Unsafe Booster Seats
ProPublica's report claims that EvenFlo aimed for profits, not child safety, when rolling out booster seats.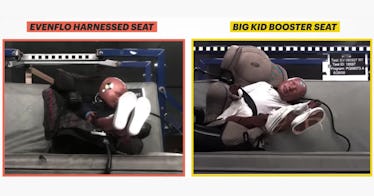 ProPublica
ProPublica, a nonprofit investigative newsroom, published an article this morning that alleges a shocking claim: For years, Evenflo, one of the most popular manufacturers of infant car seats and booster seats, knowingly marketed a product — the Evenflo Big Kid booster seat — towards parents of children too young, too short, and too light to use the booster seat, putting many young children at risk of death or serious injury in the event of a car crash while sitting in the "Big Kid."
Following a series of depositions made by engineers at Evenflo, videos of safety tests administered by the company, interviews with officials with the American Academy of Pediatrics, and interviews with families who had been in near-fatal car crashes with their children, as well as official comment from Amy Blankenship, Associate General Counsel for EvenFlo Company, Inc., ProPublica paints a picture of a company more motivated by contending with industry competitors like Graco and Dorel than the safety of the families they were serving with their products. They note that when Evenflo launched their own booster to compete with Graco, they labeled their booster as safe for kids who were as young as 1 as long as they weighed 30 pounds — Graco labeled it safe for kids who were at least 3 years old with a minimum weight of 30 pounds. Neither of these claims aligns with AAP recommendations.
In February of 2012, the article alleges, company engineer Eric Dahle pushed executives at Evenflo to change their Evenflo Big Kid recommendations — which had previously been set at over 30 pounds and sometimes as young as one year old with no minimum height — up to 40 pounds. In depositions four years later, Evenflo engineers would admit under deposition that consumers should not put a 1-year-old child in any belt-positioning booster. Changing the recommendation of the weight of kids to 40 pounds would line up with previously set Canadian regulations, which have been set as such since the late '80s, and would also align with AAP settings. The marketing executives pushed back and refused to initiate the changes, despite a dearth of research that suggested that children under 40 pounds in a booster seat would be increasingly at risk for serious injury or death in the event of a car accident.
ProPublica also outlined how in lieu of government set side-impact testing regulations, EvenFlo marketed their products as "side impact tested" without explaining how the tests operate — or even if the booster seat passed the test at all. EvenFlo advertises its booster seats as "SIDE IMPACT TESTED" but didn't reveal that their own tests showed that a kid in the booster could likely die in a car crash. EvenFlo gave its booster seats passing grades even when tests showed that in the event of a side-impact car crash, a kid would potentially suffer catastrophic head, neck, spinal injuries or die. ProPublica also revealed that the side-impact tests that Evenflo did run weren't as rigorous as federal ones, which simulates side-impact crashes with a 3,000+ pound barrier moving at 38.5 miles per hour into a car. Evenflo, on the other hand, did tests on a bench like a bench-seat in a car, moving at 20 miles per hour, that was abruptly decelerated.
The report also alleges that Evenflo was not alone in continuing to sell and market boosters for American kids who weighed 30 pounds — six other companies in addition to Evenflo, per the report, have continued to market boosters to those kids. And even when some companies increase their safety standards, as Graco did on the Graco TurboBoosters, it's not labeled across the board – on three websites the TurboBooster is sold on (Walmart, Amazon, and Target,) the product information now reads: "To continue to meet industry standards, we have increased the weight minimum from 30 to 40 lb."
Finally, despite the AAP recommendations to only allow kids who weighed 40 pounds or more in booster seats, Graco, Evenflo, and Dorel still told consumers boosters were safe for kids as little as 30 pounds. When Evenflo decided to increase its regulations, they did not always provide the full breadth of information that would be meaningful for parents: after Evenflo increased the booster's minimum age to 4, some boxes only came with weight and height guidelines provided on the box.
The reporters for the story, Daniel Porat and Patricia Callahan bought two seats last month that were still available despite the fact that they provided the out-of-date parameters for use that they recently changed. They found the boxes did not specify an age for use and labels still said they were safe for kids as little as 30 pounds, despite changing their standards to 4 years old and 40 pounds. After ProPublica started investigating, Evenflo did change product descriptions on their website to note the minimum weight for use is 40 pounds. So, ProPublica bought another box. The label still says it's safe for kids as small as 30 pounds. And since federal law doesn't specify a minimum age for boosters, Evenflo has not yet been required to recall the Big Kid boosters it labels safe for kids as young as 1 and weighing 30 pounds, despite the fact that they've changed their guidelines.