Elon Musk and Grimes' 'Semi-Separation' Is the New 'Conscious Uncoupling'
Grimes and Elon Musk have 'semi-separated,' and their son now calls Grimes 'Dog.' This couple does things their own way.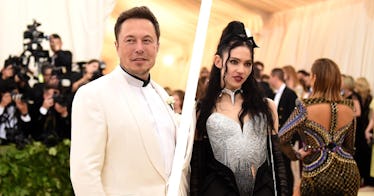 GETTY
Major news in the Grimes/Musk/Baby X universe: Grimes and Elon Musk are parting ways, sort of. The SpaceX founder shared that he and Grimes, the mother to his 16-month-old son, are "semi-separated" after three years together.
Speaking to Page Six, Elon said the two are no longer together. However, they remain on good terms and will continue to parent their son, X Æ A-Xii Musk.
"We are semi-separated but still love each other, see each other frequently, and are on great terms," Elon said. While he didn't detail if there was something that prompted the "semi-separation," it sounds like the two don't have schedules that work right now.
"It's mostly that my work at SpaceX and Tesla requires me to be primarily in Texas or traveling overseas," Elon said, "and her work is primarily in LA. She's staying with me now, and Baby X is in the adjacent room."
While we may not understand what "semi-separated" means – which sounds like it's the new "conscious uncoupling," these two have never done what's expected.
Instead, Elon and Grimes have been determined to do everything on their terms, and it seems to work for them, which is great. Whether that's naming their son X Æ A-Xii (they call him "X" and had to change his name legally a few times), how they choose to define their relationship, or Grimes sharing that her son calls her by her first name and not "mom."
Last week, Grimes opened up to Vogue that her son calls her "Claire," which is her real name, instead of "mom," and she's totally OK with that.
"X, he says 'Claire,' but he doesn't say 'mama.' Which is so… I'm like, 'How are you…?' Like, maybe he can sense my distaste for the word 'mother,'" she said. "Which I don't even know why I have a distaste for it, because I respect … I just can't identify with it, weirdly."
But she's happy to go with the flow on what her baby calls her, too. On TikTok, the unconventional mom went viral with an update on the name her son calls her. Instead of "Claire," now it's something entirely different. X has started to call her "dog." Kids say the darndest things!
"Try saying 'mama,'" she says to her son, who quickly replies with "dog." She prompted him a few more times, but X consistently replied with "dog." It's both adorable and hilarious. And while other parents may insist their kids call them some variation of "mom," Grimes admits she didn't realize how kids learn to call their parents "mom" or "dad."
"I didn't realize u gotta teach it to them," she said in the comments, "so I never said mama to him hahaha I thought he might just say it. Didn't read the manual."
This is Grimes' first go at parenthood (Elon has five more sons – a set of twins and a set of triplets – from his previous marriage), and we all do things our own way – even if we don't mean to. And we're sure she and Elon will do their co-parenting on their own terms, too.