Ed Sheeran's Baby Girl's Name Is Out Of This World
Drops of Jupiter in her hair...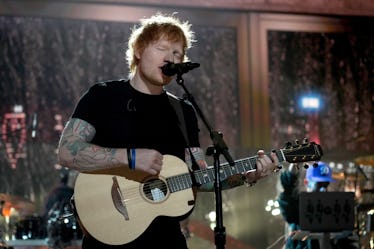 Kevin Mazur/Getty Images Entertainment/Getty Images
Ed Sheeran is a dad to two little girls, and in a recent interview, we finally learned the unique name he and his wife, Cherry Seaborn, gave to their second baby born 10 months ago. In the cover story for Rolling Stone, the musician opened up about his life at home with his family, and we think his daughter's name might help spark a new baby name trend.
In May 2022, Sheeran shared that he and his wife welcomed their second child with a cute announcement featuring tiny white socks and a blanket.
"We've had another beautiful baby girl," the announcement read at the time. "We are both so in love with her and over the moon to be a family of 4."
However, after the birth announcement, the proud parents didn't share any further details about the little sister to their 2-year-old daughter, Lyra. Until now.
During the chat with Rolling Stone, it was revealed that Sheeran and Seaborn's now 10-month-old daughter's name is Jupiter.
According to Nameberry, the name Jupiter can be used for boys or girls and means "godfather." Of course, most of us would tie the name to the planet fifth in line to the Sun — and the largest in the Solar System.
Jupiter isn't a super popular name for babies, but that could change. One data analyzer says, "1 out of every 13,794 baby girls and 1 out of every 24,164 baby boys born in 2021 are named Jupiter." And Sheeran isn't the only famous family to use the name recently. Ashley Tisdale named her daughter Jupiter Iris in 2021.
In the interview, Sheeran also opened up about what life has been as a parent of two dads — and how touring has changed since becoming a parent.
"Me and Cherry were talking earlier about how it's so lovely," he said. "We had an entire day. We did nothing but this. It's so nice and wholesome having family on tour. On the last tour, I'd party till 7 a.m., sleep till 4 p.m., get up, and do the gig. But I was, like, 26. It's very different."
However, it's not all been an easy, straightforward time. Sheeran detailed the scary health prognosis his wife received while she was pregnant with Jupiter — a tumor that could not be treated until after she delivered Jupiter.
"There's nothing you can do about it," Sheeran told Rolling Stone. "You feel so powerless."
To read the full interview, check out Rolling Stone.