Dwyane Wade's Parenting Style Is A "Mirror Image" Of His Dad's
"I never wavered on loving my kids."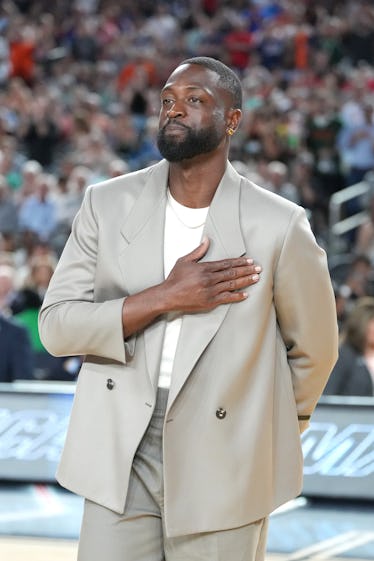 Mitchell Layton/Getty Images Sport/Getty Images
Dwyane Wade has been praised time and time again for the unconditional support he shows his kids. But in a new interview, the retired Miami Heat superstar opened up about how the support he gives his own kids has an origin of its own. In the interview, Wade revealed that his own father instilled that parenting style in him, and that he credits his dad for how he parents his kids.
Wade was a recent guest on the third episode of Headliners, hosted by Rachel Nichols. The two touched on several topics during their conversation, including fatherhood and the lessons on love he learned from his own dad.
"I tell my dad all the time, I'm just a mirror image of the way he loved us, and the way that he accepted not only myself and my brothers, but other kids in the community that didn't have father figures," Wade says.
"And so I don't know any difference," he said, adding that although he had all that love, he still did a lot of learning about how best to support his kids. He's raising five kids: adopted nephew Dahveon, as well as Zaire, Zaya, and Xavier, from previous relationships, and 4-year-old Kaavia, who he shares with wife Gabrielle Union-Wade.
"And so yes, I had to educate myself, and yes, I had to get a better understanding. And yes, I had to lose some friends along the process, but I never wavered on loving my kids and trying to find space to get the chance to understand them," Wade shared.
During the conversation, Wade also spoke about moving his family out of Florida amid the increasing number of state policies that target LGBTQ+ families like his (Wade's 15-year-old daughter, Zaya, came out as transgender in 2020).
"I have to make decisions for my family, not just personal, individual decisions," Wade shared.
"... My family would not be accepted or feel comfortable there. And so that's one of the reasons why I don't live there."
Wade and Union have been loud and proud supporters of raising strong kids and being supportive parents. They also regularly call out dangerous and harmful policies that target the most vulnerable.
Recently, Wade and Union made headlines after they received the President's Award at the NAACP Image Awards. Wade publicly addressed his daughter Zaya in his award speech: "I've sat back and watched how gracefully you've taken on the public scrutiny. And even though it's not easy, I watched you walk out of the house every morning as yourself. I admire how you've handled the ignorance in our world...that you face every day. To say that your village is proud of you is an understatement. Thank you for showing me that there's more than just one way to communicate effectively."
You can listen to the full interview of Wade's appearance on Headliners here.