Dwyane Wade Celebrated His Hall Of Fame Inducteed With A Dad Joke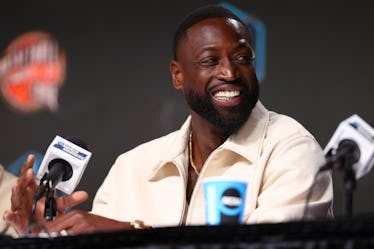 Tim Bradbury/Getty Images Sport/Getty Images
Over the weekend, a new basketball superstar class was inducted into the Naismith Memorial Basketball Hall of Fame. Dwyane Wade, who spent most of his NBA career playing for the Miami Heat and is a 13-time NBA all-star, was unanimously inducted into the Hall of Fame, E! Online reports. And he celebrated in the most hilarious, dad-joke way ever.
In a video Wade posted to both Instagram and TikTok on April 1st, Wade recorded himself getting the phone call where he learned that he was unanimously voted into the hall of fame.
Almost as soon as he learned the news, he turned to his teenage daughter, Zaya, and requested that he be called by a brand new name.
That's right: Dwyane Wade no longer wants to be called "Dad."
"You got to know, change my name from D-A-D to H-O-F in your phone," he told his daughter, joking. "I know you got 'Dad' in there. Take it out and put 'H-O-F' for a while."
Whether or not Wade will go by H-O-F instead of Dad for the next few months, who knows. But it could be a great new nickname for the 16-year veteran of the NBA who won 3 NBA championships.
Wade most recently made headlines after he received the President's Award at the NAACP Image Awards alongside his wife, Gabrielle Union-Wade. When he received the award, he dedicated it to his daughter, Zaya, who came out as transgender in 2020.
"I want to take this moment to publicly speak to our daughter, Zaya. Zaya, as your father, all I've wanted to do was get it right," Wade said at the podium with Union-Wade. "I've sat back and watched how gracefully you've taken on the public scrutiny. And even though it's not easy, I watched you walk out of the house every morning as yourself. I admire how you've handled the ignorance in our world...that you face every day. To say that your village is proud of you is an understatement. Thank you for showing me that there's more than just one way to communicate effectively."