'Don't Say Gay' Leads To Disney Movie Getting Banned In The Classroom
A Florida teacher showed her kids an age-appropriate movie. A week later, she felt forced to resign.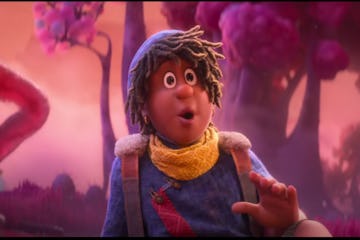 Disney / Pixar
A Florida fifth-grade teacher is under investigation by the state Board of Education after screening a Disney movie for her students. The film in question, Strange World, is a sci-fi story featuring a diverse cast of animated characters, one of whom happens to be gay. A minor subplot of the film refers to this character having a crush on another character of the same sex.
The Disney film, released last year, stars Jake Gyllenhaal and Gabrielle Union as members of a family delving into a mysterious and dangerous subterranean land on a mission to save their world, Avalonia, which derives its power from a magical plant that lives below the surface.
Despite an overwhelmingly positive Common Sense Media review of Strange World and a PG rating, Hernando County school board member Shannon Rodriguez took offense to her fifth-grader seeing this animated, fictional gay character depicted in a film. Rodriguez reported the teacher, Jenna Barbee, to the state Department of Education (despite having signed a release form saying her kid could watch PG films in the class, per the Albany Herald.)
Barbee decided to show the film after teaching a unit on plants, animals, and ecosystems as the plot was relevant to the lesson. "It talks about love to all things, and that's literally what this movie represents," Barbee told NPR. "I find it interesting that now I'm getting in trouble for a similar topic."
Because of Florida's controversial "Don't Say Gay Law," the scandalized parent was able to trigger an investigation by both the school district and the state. The law, passed last year, prohibits instruction of any sort related to sexual orientation or gender identity. Originally intended for kindergarten through third grade, the law was expanded this year to include kindergarten through twelfth grade.
At the time the law was passed, experts were concerned that the vagueness of how it was written could lead to teachers or even students being disciplined for talking about their identities or their home lives. In this case, something incidental to the lesson at hand — the subplot of the movie — led to the beginning of an investigation of Barbee.
Barbee recently told CNN that she was unaware the law had been expanded and that the ban now included all grades. "I just found out today that they increased it to my level. I had no idea whatsoever that this was such a big deal," she said.
After Barbee was reported, the school district sent a note home with students informing parents that their children had seen the film.
"Yesterday, the Disney movie Strange World was shown in your child's classroom," the note read. "While not the main plot of the movie, parts of the story involves a male character having and expressing feelings for another male character. In the future, this movie will not be shown. The school administration and the district's Professional Standards Dept is currently reviewing the matter to see if further corrective action is required."
Rodriguez says Barbee should have gotten approval from the administration before showing the film and claimed she is "playing the victim." At a school board meeting, Rodriguez explained that "as a leader in this community, I'm not going to stand by and allow this minority to infiltrate our schools … God did put me here." Rodriguez later stated, contradictorily, that religion has no place in schools.
Governor Ron DeSantis has a long history of legislating what can be shown in classrooms and has most recently taken to banning school curricula that teach critical race theory and outright banned an African American Studies AP course calling diverse curricula "woke indoctrination."
But it's his vague new "Don't Say Gay" law that has caused the most turmoil inside and outside of schools, with teachers now unsure of what is legal and what isn't. Barbee tendered her resignation one week before the incident due to "politics and the fear of not being able to be who you are" in Florida public schools.
"All of my students are asking, 'Why is that so wrong? Why is it inappropriate? Why are you in so much trouble because of this little part of the movie?' And I have to just keep saying, 'No, go ask your parents about it.'"
"I was never trying to indoctrinate my students by showing them something that had differences and diversity," Barbee said about the investigation. "I was showing them a movie that related to our curriculum and our Earth, that also taught many valuable life lessons that also correlate to our Florida best standards."
She also pointed out the double standard in Rodriguez's argument during a school board meeting. "A school board member, an elected official of power, who was supposed to be nonpartisan, is allowed to present to the public that she is Christian and that God appointed her to the board. And yet it is indoctrination that I showed a Disney movie."
Florida Department of Education press secretary Cassie Palelis said the case will be reviewed, and next steps will be suggested by an attorney, adding, "we will not allow politics and media pressure to dictate our process."