Dog Beer Means New Drinking Buddy Is Your Dog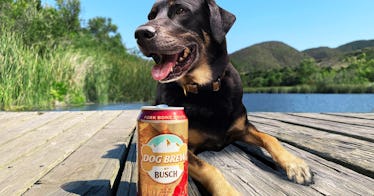 Anheuser-Busch, St Louis, MO
Well, whether or not anyone asked for it, Busch, the brewing company, has launched a questionable product. That product? Beer, but for dogs. "Dog Brew by Busch," as it's called, is a "beer" for dogs that will make sure that your only quarantine drinking buddy isn't just yourself — it's also fido. Obviously, since the product is for dogs, there is no alcohol in it, nor is it brewed out of hops or other traditional beer ingredients. It's essentially chicken broth, but in a beer can, with bone-in pork butt broth, corn, celery, basil, mint, turmeric, ginger, and water.
The "can of beer" can be used as a treat in the water bowl while you enjoy a beer after a long hard day of yard work or on top of dog food as a special flavor booster and food softener. (Umm, yum!) And while the product is just strictly not necessary, we suppose it is kind of a fun marketing thing to do in the midst of one of the worst years on human record, pandemic be damned and all of that.
The cans of "beer," which are sold in six-packs, are also going towards a good cause — $1 from each six-pack sold will go towards the Best Friends Animal Society, making the brew part of a worthy cause.
Is the beer necessary? No, it really isn't. But, on the other hand, it's not exactly like most of us have dozens of friends we're seeing and having beers with right now, so maybe if it's just about expanding our social circle just a little bit to our pets… I guess that's not all that bad, either.
This article was originally published on