The End Of Disney's Splash Mountain Is Near
The time is counting down for Disneyland's Splash Mountain.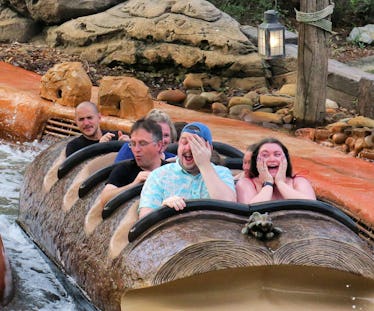 Orlando Sentinel/Tribune News Service/Getty Images
The end is finally nigh for Disneyland's Splash Mountain. The controversial ride has been a part of the park for 30 years, and three years ago, the company announced the ride would be shut down, making space for a new experience for park goers. But wait, didn't Splash Mountain already close? And what's going to replace it?
Here's the deal: in 2020, Disney announced the upcoming closure of Splash Mountain, a ride that's been in the park since the beginning. The ride is based on the incredibly problematic Song of the South Disney film that the NAACP said "helps to perpetuate a dangerously glorified picture of slavery." Indeed, the film itself has never been on Disney+ and has been vaulted. Disney promised an overhaul to create a new storyline to repurpose the ride.
Disney Parks revealed Wednesday that the old ride will close at Disney Land on May 31.
The same ride at Disney World in Orlando, Florida, closed earlier this year in January. Parkgoers were interested in keeping a piece of history for themselves or were used as a quick grab of cash when jars of water, allegedly from the ride, popped up for sale on places like eBay.
But that space won't be unused for long—it's set to be transformed into a new attraction, Tiana's Bayou Adventure, which is scheduled to open in 2024. The new look will be re-themed after the 2009 film The Princess and the Frog, with Princess Tiana, Naveen, Louis, and Mama Odie set to be the stars of the new ride.
Guests will be treated to "an adventure through the bayou as they prepare to host a one-of-a-kind Mardi Gras celebration where everyone is welcome," the early description of the ride explains.
"Along the way, guests will encounter familiar faces, make new friends and travel through the bayou to original music inspired by songs from the film as they are brought into the next chapter of Tiana's story."
More updates on what to expect with the new ride will likely roll out in the coming months.