'Splash Mountain' Is Closed For Good. Disney Fans Are Trying To Sell Parts Of It
Some Disney fanatics have found a way to keep a piece of Splash Mountain with them — and they're trying to sell the opportunity for others to hold the same.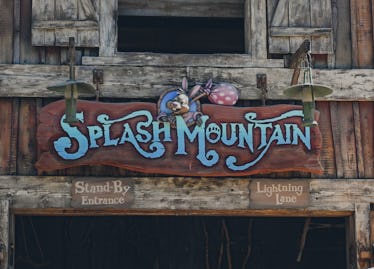 MediaNews Group/Orange County Register via Getty Images/MediaNews Group/Getty Images
Disney's popular and controversial ride, Splash Mountain, has officially closed at Disney World. The ride has been at the park for 30 years, and given its history — the ride is based on the 1946 movie 'Song of the South' that the NAACP said perpetuated "a dangerously glorified picture of slavery" — in 2020, the company announced it would be shutting the ride down and retooling it.
Now, that day has come. The ride closed on Monday, Jan. 23, 2023. But some Disney fanatics have found a way to keep a piece of the ride with them — and they're selling the opportunity for others to hold the same. Yes, people are trying to sell Disney's Splash Mountain ride water. Whether or not people will buy the water is another question altogether.
According to Kotaku, people on Twitter have come across advertisements of people selling water on eBay they claim came from the Disney World attraction. These are jars of water people say they swiped from Splash Mountain before the ride officially closed, and they're listing them for up to $200 a jar.
"Water captured from Disneys Splash Mountain on 1/22/2023 the last day of the ride! We have a limited amount!" one eBay listing read.
"Disney Splash Mountain Water 💦 last day of water," another advertisement touted.
Although jars of water selling for close to $40 an ounce sounds strange, there's a real market for Disney collectibles, and a slew of people spend hours and hours growing their Disney collection.
"Resellers are known to mass-purchase exclusive merchandise, with many viral images of in-store hoarding inciting fury among Disney fans," Inside the Magic wrote of the Disney collectible culture in October 2022. "Some resellers even sell items that were given away for free!"
Disney itself has fed into the collectible culture. Previously, the company sold keepsakes created from several trees surrounding the park's Pirates of the Caribbean ride that had to be cut down.
Disney is relaunching the ride, with presumably similar water, under a new theme: Tiana's Bayou Adventure, based on Disney's first Black princess. The ride is scheduled to open in 2024.