Disney+ Just Broke a Huge Netflix Record. But, the Streaming War Isn't Over
Apple TV might be DOA, but there's not a clear winner here. Yet.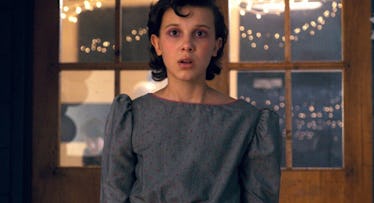 Credit: Netflix / Stranger Things
It didn't take long for Disney+ to really make its mark in the streaming world. The new platform has been up and running for nearly 2 weeks, and it's already broken a massive record. The frontrunner show that everyone is talking about on Disney+ is the Star Wars live-action spin-off The Mandalorian, and according to Business Insider, it has dethroned a long-running top favorite from their competitor, Netflix.
According to Parrot Analytics, which measures "demand expressions" to reflect viewership, desire, and engagement of a series, Netflix's Stranger Things has been the top runner for 21 straight weeks. The series has been at the top of Parrot Analytics' weekly list for the most in-demand original streaming show in the US that entire time… that is until Disney+ came along.
Data from Parrot Analytics shows that The Mandalorian had over 100 million demand expressions during the week of November 17 through the 23rd. Their data also showed that the Star Wars show had already been dubbed the most in-demand new original streaming series of the year, just one week after it was released. That same week, Stranger Things moved to second place that week at 81 million demand expressions.
"While demand is a metric that should not be confused with subscriber numbers, this is a strong indication that the 'Star Wars' series is driving a lot of sign-ups to the recently debuted Disney+ service," a Parrot Analytics representative said.
Now, don't feel too bad for Netflix just because Stranger Things was bumped. Their 21-weeks at the top is an incredible run, and the company isn't going anywhere. TIME says that while the addition of Disney+ does make some competition for Netflix, its massive catalog of titles, which grows every year, is likely to keep them afloat and doing well for the foreseeable future. The company is said to have spent $12 billion on new content in 2019 alone, and they're reported to have around 160 million subscribers.
As the streaming wars continue, it's really starting to show that the winner will always boil down to which service has the best content. The Mandalorian doing so well is definitely helping Disney+ have a colossal launch month, and it's clear that Apple TV+'s lack of content –with only 11 titles currently—is why they're being forgotten already.
But, that adorable baby Yoda helps, too.
This article was originally published on