You Have Until Friday To Save $40 Off a Disney+ Streaming Subscription
An under-the-radar deal means making a long term commitment to Disney+; but it might be worth it.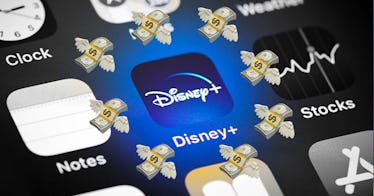 Getty
In just one month, the way you think about your streaming subscriptions might radically change. Disney+ is making an aggressive play for the money you spend on Netflix, recently even getting a little rough with their streaming rival. And now, if you're willing to make a longterm deal with Disney+, there's a way to save even more. So far, it appears Disney doesn't want your soul, only your money (and, you know, a sizeable piece of your kid's imagination). Anyway, here's the deal.
This week, the Orlando Sentinel reported on a "Founders Circle" promotion aimed at Disney park loyalists that gets you three years of Disney+ for $170 if you prepay, $40 the $210 you'd pay at the $70 annual rate.
HOWEVER, one reporter over at Gizmodo was able to sign-up for this deal despite not being part of the park loyalty program. Is this a loophole? It certainly seems like it!
Basically, Disney has confirmed that if you want a three-year subscription for Disney+, until October 11, you can totally get one for $170 dollars. That's right, you pay $170 bucks this week, once and you'll have a Disney+ subscription for three years. (This comes out to slightly less than $5 bucks a month.)
Right now, this won't include the Hulu/ESPN/Disney+ bundle for $13 bucks, and it's not clear yet if there are any deals available for said bundle if you are willing to prepay for several years upfront.
Interested in this Founders Circle deal? Here's how to get it.
Hit up this link.
Enter this code: PARKSPASS3YEARS
Disney+ starts streaming on November 12. This deal expires on Friday, October 11. If you still want to sign-up for Disney+ (and if you have a kid who loves The Little Mermaid, or Aladdin, you'll probably want all those classic Disney movies on tap) here's all the info about how to do it conventionally for a price that's still pretty cheap.
Your move, Netflix.