Here's the Disney+ Live Outage Map
We get it, the Disney+ app has a lot of problems. Luckily, you can see whether or not you're going to experience them with this map.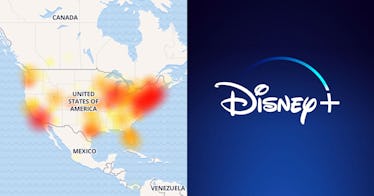 DownDetector.com/Disney
Disney+, the new Disney streaming platform that features hundreds of old Disney movies, Disney Channel Original Movies, new television shows and Marvel classics among others launched this morning and the platform has already experienced a whole number of service issues, not limited to platform outages, where the website crashes mid-episode. While the platform isn't down across the country, the outages suggest that Disney may not have been prepared for so many users to log onto its platform — which seems shortsighted, given that the Disney+ launch has been one of the most hotly anticipated streaming platform launches this year, with new Star Wars show The Mandalorian premiering on the first day of the platform's existence.
There might be some credence to the theory that massive snow storms might be to blame, which are currently whipping down the midwest and blanketing states like Ohio in a picturesque coverage of snow and keeping tons of kids at home, unable to go to school, glued to their brand new Disney+ app.
It also could be true that Disney just didn't expect such a hard launch on a Tuesday morning. Either way, outages are happening across the country — and Downdetector, a website that shows what websites and web services are down in areas across the world, has a map to prove it.
Currently, there are outages all along the East Coast, down the midwest, and in a few hot spots in California. But that could change, which is why the map updates live to show when and where the platform is going down, so you can see whether or not you'll have to wait an hour or a few minutes for your Disney content to continue to stream or if your wifi is just not working well. Turns out a lot of people want to watch High School Musical, I guess.