Your Boy R.L. Stine Is Getting a Disney+ Series
The 'Goosebumps' genius is coming to TV (again.) But not the way you think.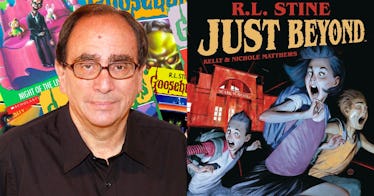 Getty, Disney+
Scaring kids is a big part of what kids' stories are for. A cursory glance at the Disney+ grouping of classics from the "vault" reveals more horror stories than you might imagine. Luckily, Disney is also aware that some of their scarier tales like The Adventures of Ichabod and Mr. Toad, The Magician's Apprentice, and Sleeping Beauty are a tiny bit out of date. Enter Goosebumps scribe R.L. Stine and his lesser-known comic book series, Just Beyond, a tongue-in-cheek horror series for kids that's being adapted into a TV show on Disney+.
Don't call it Black Mirror for kids; it's probably going to be at least slightly smarter than Black Mirror. Last year, Stine told Fatherly that he thought Black Mirror: Bandersnatch was "boring." So the gauntlet has been thrown down by the master of horror for kids, and now, its' time to see if he's right.
The new Disney+ show will adapt the Just Beyond series from BOOM! Comics, but what that means isn't entirely clear. The best guess is that this will be PG- or G-rated horror for older kids, which, frankly, might make it better than the movie version of Scary Stories To Tell In The Dark that never should have been made. So, will Just Beyond be the horror-anthology for kids that kids have been owed for a long time? Maybe.
According to reports, the new R.L. Stine show on Disney+ will be run by Seth Grahame-Smith, the guy who did Abraham Lincoln: Vampire Hunter, Pride and Prejudice and Zombies, and the (underrated) 2012 Dark Shadows reboot movie. Here's hoping that this series is more like those projects, and slightly less like the various Goosebumps movies. Horror for kids on TV or in movies is tricky, but plumbing the depths of R.L. Stine's deranged brain is a pretty great place to start.
Just Beyond will debut on Disney+ sometime in 2021 or 2022.
This article was originally published on