These Are The Most Popular Super Bowl Dips In Every State
Which dip reigns supreme?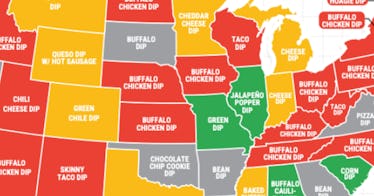 Google Trends
For football fans, the countdown to Sunday, February 12th — otherwise known as Super Bowl LVII — where the dominant Kansas City Chiefs will face off against the powerhouse Philadelphia Eagles — is completely on. For football super-fans, or those who are serious about their fantasy teams, this match-up is sure to be a knuckle-biter, with family legacy on the line. For the more casual fans, however, attention will turn toward the game day spread: chicken wings, veggies trays, and, who can forget, dips. From buffalo chicken to queso to seven-layer, snack-time at the Super Bowl is where it's at.
But what dips are the most popular in each state? What are you likely to see at your game day gathering? Well, wonder no more – we've got a list of the most popular in each state.
The Food Network was curious, like we are, which dips are favorited in each state. Working with Google Search, the results were "an array of dips that spread across the spectrum of taste." Google looked at search data over the past week to pull the most popular dips in each state. And, just like the big game, there's one dip that came out the winner.
Coming out on top overall as the best dip in the US is Buffalo chicken dip, which is a favorite in Tennessee, Rhode Island, Pennsylvania, Ohio, North Dakota, North Carolina, New York, New Jersey, New Hampshire, Nebraska, Maine, Kentucky, Kansas, Iowa, Idaho, Washington, D.C., Delaware, and Arizona. That's 18 states plus two other states who search for variations of the Buffalo chicken dip, including "buffalo cauliflower dip" and "buffalo dip."
Another favorite dip is the 7-layer dip, which is a little like a taco but in dip form. It's the top dip in Massachusetts, Hawaii, and Alaska, but for Washington, their favorite is the Greek layer dip. Cheesy dips are a favorite in several states, too. Minnesota likes "cheddar cheese dip," people in Florida love their "cream cheese dip," and Michigan likes their "cheese dip."
We can't forget about meaty cheese, though. Maryland likes "cheesy hamburger dip" and "chili cheese dip" is Utah's top dip. Other favorites were spicy dips like "green chili dip" a favorite in Colorado, and "jalapeno popper dip," which is loved by Illinois and California.
Perhaps the most surprising dip to make a favorite in at least one state is the "chocolate chip cookie dip" which is what Oklahoma is all about. To be fair though, we're not sure there is a dip that isn't delicious. So it's a win-win always for these snacks.
Tune into FOX or the FOX Sports App on Feb. 12, 2023 to watch the Philadelphia Eagles as they take on the Kansas City Chiefs in Super Bowl XLII at 6:30 p.m. ET. Don't forget your dips.
This article was originally published on