17 Deodorants Have Been Recalled for Chemical Cancer Risk
A chemical known to cause cancer was found at more than nine times the upper limit.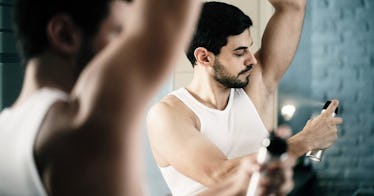 It's probably going to be a smart idea to check your deodorant. More than 30 different brands have been flagged as containing the cancer-causing chemical benzene after a citizen's petition was filed with the U.S. Food and Drug Administration (FDA) this month. One of the brands has since voluntarily issued a deodorant recall, pulling 17 of its products. The rest of the brands have not yet issued a recall.
Benzene, which is not needed to make deodorant, was reportedly found in more than half of 108 batches of deodorant body sprays and antiperspirants that were tested by the independent lab Valisure, according to CNN. Benzene was reportedly found in 30 different brands of deodorant. Here's what you need to know.
What is benzene and why does it matter?
According to the Centers for Disease Control and Prevention (CDC), exposure to benzene over time can cause issues with the immune system, blood, and bone marrow, which can include cancers such as leukemia.
Benzene is used in the U.S., according to the CDC, but it's more common in dyes, detergents, lubricants, and rubbers. Because it's listed as a class one solvent with "unacceptable toxicity," it shouldn't be used in drug products, which antiperspirants are typically classified as, according to CNET, while deodorants are classified as cosmetic products.
How much benzene is bad for you?
If the use of benzene is "unavoidable in order to produce a drug product," levels should be limited to two parts per million. It's important to note that benzene isn't needed to make deodorant sprays or antiperspirants, so it shouldn't be present at any level in these products.
Which brands issued a deodorant recall?
The results from the Valisure lab found benzene levels beyond the upper acceptable limit in deodorants and antiperspirant products from 30 brands. Two lots of an Old Spice antiperspirant called Pure Sport reportedly contained 17.4 parts per million of benzene on average. Secret Powder Fresh lots that were tested reportedly contained around 16 parts per million on average.
Some of the other brands that Valisure reported finding benzene about two parts per million in include Summer's Eve, Right Guard, Power Stick, Soft & Dri, and Victoria's Secret. "To date, CNN was not able to verify that any of these products except Old Spice and Secret have been recalled following Valisure's early November request to that effect to the FDA," CNN reports.
Although not all the brands have responded to the lab findings, P&G, the parent company of both Old Spice and Secret, voluntarily recalled 17 of its products "out of an abundance of caution." P&G said, while recalling their products, that "daily exposure to benzene in the recalled products at the levels detected in our testing would not be expected to cause adverse health consequences."
No adverse reactions have been reported related to the alleged benzene in these products. However, consumers are being asked to check the lot numbers on the FDA recall notice with what the deodorants they have at home. If you have one or more of the products, there are a few ways to get in touch for reimbursement. You can find all that information here.
This article was originally published on