Daniel Craig's Solution To His Daughter's Star Wars Addiction Is Hilariously Relatable
Daniel Craig's 5-year-old daughter was recently introduced to the Star Wars universe and quickly became obsessed.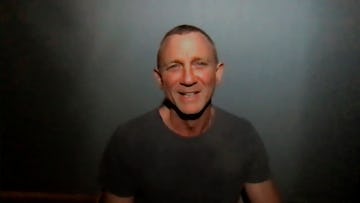 NBC/NBCUniversal/Getty Images
Daniel Craig only recently introduced his 5-year-old daughter to the Star Wars universe, and she very quickly became obsessed. In an attempt to walk back his daughter's addiction, Craig got creative, and the result is a hilariously relatable tale, as told by his wife, Rachel Weisz.
Weisz recently sat down with Stephen Colbert for The Late Show, where the topic of Star Wars came up. Weisz admitted that she's never seen any of the movies from the franchise, but her daughter, Grace, and husband recently started to binge the whole thing.
"Daniel and our daughter had been watching Star Wars," Weisz said. "It was like a father-daughter bonding experience, and they started on the original ones. My daughter got obsessed. She kept saying, 'Google this. Google this. What does Darth Vader look like under his mask?'"
Weisz said that her daughter got so into the movies that it started to become a problem.
"She wants to know everything, and she's obsessed with mythology," Weisz shared. And she got concerned about how intense her daughter was jumping into all the details, so she asked Craig to step in.
And Craig did address the concern in a very relatable, dad-kind-of- way.
"We were in London when this happened," Weisz said. "[Grace] said, 'Dad says Star Wars is broken.' So they can't watch it anymore."
The family recently traveled to New York, and it sounds like Grace was hopeful it wasn't broken in the U.S. "We just got to New York, and she said, 'Is Star Wars broken in New York too?'" And so I said, 'Yeah, yeah, it's broken,'' Weisz joked.
While Weisz hasn't yet seen a movie from the Star Wars franchise, Craig had a very small cameo in one of the films. Famously, he played the Stormtrooper who released Rey from captivity in the 2015 movie, The Force Awakens. But, of course, young Grace won't see her dad's face in that film, since Daniel Craig stays very much hidden under the helmet, safely...anonymous.