Dad's Viral Post Supporting His Son Wearing Dresses is Perfect Parenting
"If anyone in my life says anything bad about a dude in a dress they are gonna meet the papa bear in me."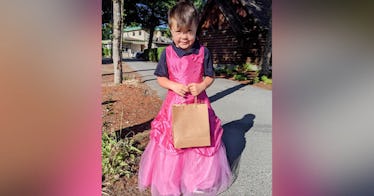 Jared Qwustenuxun Williams via Facebook.com
As parents, it really is our job to love our kids and prepare them for the world. The best way we can do that is by supporting them and encouraging them to be who they are.
That means raising them authentically and without judgment. And that's what dad Jared Qwustenuxun Williams wants to make sure he does for his son Finn – to encourage him to be who he is, fully, and embrace what makes him unique. Including his love of wearing dresses.
Jared is a chef who lives in British Columbia with his two boys. He recently went viral after sharing a photo of his son Finn wearing a bright pink princess gown and a note about why he's "so damn proud of his strength and bravery."
"At the start of the school year, some kids were not as cool about his dresses and said some stuff that sent him into a few months of pants only," Jared wrote. But in the last months of the school year, Finn has been back to his true self, which makes him and his family so happy.
Jared explained that Finn describes himself as "just a boy who likes to wear dresses," and dad wanted to celebrate and honor Finn's comfort at getting back to who he is. "I asked him once if I could share this picture and he said, 'only with one person.' He is not a fan of sharing his picture," he explained.
"But a few days later I sat down with him and asked again, but this time I said, 'Hey bud, remember that awesome picture of you in that beautiful pink dress? Well remember how you were afraid to wear a dress for a while? Well, I want to share your picture so that if maybe if another boy is afraid to wear a dress he'll see your picture and not be afraid because he can see you in a dress and know he is not alone,'" dad recalled. "Finn got the biggest smile on his face and said, 'Dad, maybe you should share that picture.'"
Jared gave a shoutout to his son's school for being "SUPER supportive," adding that "the teachers have been great at helping educate the other kids." Dad continued, "Finn is a boy who likes to wear dresses and I am so damn proud of him. And if anyone in my life says anything bad about a dude in a dress they are gonna meet the papa bear in me. In my house we accept people as they are and support them to be who they want to be."
The post, which Jared shared on Facebook, went viral with over 39,000 reactions and more than 18,000 shares since it was posted in mid-June. Thousands of comments praised the dad for supporting his son 100 percent, and Jared was clear with the message he wanted to send.
"So if you know a boy, or a man, who likes to wear dresses but feels insecure, show them this picture of Finn and share the story of his bravery," he said. "Maybe my little Finn can make a big difference."
This article was originally published on