Dad Initiating Son Into Fatherhood With the Official "Dad Outfit" Goes Viral
Can't forget those New Balance sneakers!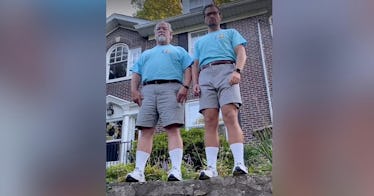 Few things are as exciting as becoming a parent. It's like a new club that we find ourselves in. Then, finally, understanding the jokes our parents would endlessly laugh at. And one dad has gone viral for initiating his son into fatherhood, gifting him his official "dad outfit," and it's the funniest thing we've seen in a while.
Meet Dan; he's a dad to three kids, who are adults now and calls himself the "leader of the pack" and "chief instigator." Although he's a full-grown adult, he "hasn't forgotten how to have fun like a child," and a video he shared recently to his TikTok account has proven he's not only a good dad, but he is hilarious, too.
"When you finally reach the age to start dressing like a dad," the text reads on the video posted a week ago. In the video, Dan proudly initiates his son into fatherhood by showing him the dad way. His adult son walks into the room, and his eyes grow big as he sees the dad outfit laid out perfectly on the dresser. It includes tan Dockers pants with a belt, plaid boxers, a blue t-shirt, glasses, a hairbrush, white tube socks, and, of course, bright white New Balance shoes.
As the son puts on each outfit piece, Dan, dressed as the master of dads, encourages his son to tuck in his shirt, brush back his hair, and witness his son fully emerge into fatherhood.
Dads love dad jokes, and so do us, moms. And this wholesome video went viral quickly on the platform with 14.5 million views and hundreds of comments.
In a follow-up video, which has also gone viral, Dan and his son, still wearing their dad outfits, then set off to do those specific dad things that come with fatherhood. First, the two proudly mow their lawn together. Then, they discuss the strong stance dads have about people touching the thermostat. Next, they pull up their shorts as they stand outside Home Depot to marvel at BBQs, and buff out the scuffs on those New Balance shoes.
In their real life, this son of Dan's isn't a father yet. But all dads understand the sentiment, and the video on its own is super relatable to dads who look forward to teaching their sons the way. It's one of the funniest real-life dad jokes we've seen. And it's actually really sweet, too.