It's Your Last Chance to See Comet Leonard Before It Leaves Our Skies Forever
Once it's gone, it's never coming back.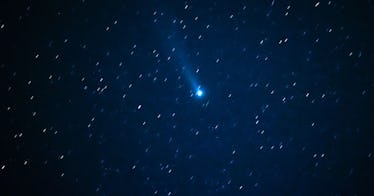 Ozkan Bilgin/Anadolu Agency via Getty Images
The brightest comet of 2021 is getting dangerously close to leaving our solar system forever, so here is how to make sure you see the Comet Leonard before it is never seen by anyone on Earth ever again.
Leonard is here for a good time, not a long time. The last time it visited us was approximately 70,000 years ago and when it passes by the sun this time, it will never return to our solar system. So this is legitimately your last chance to ever see it — unless you plan on traveling to other solar systems.
So when can you see it? Right now. Leonard already peaked, as it was closest to Earth (21.7 million miles away) on December 12. But just because it's no longer at its brightest and most visible, doesn't mean you shouldn't give Leonard a look. The comet should visible at night pretty much everywhere on earth except Antarctica through Christmas.
As you could probably guess, nighttime is the best time to get a good look at Leonard but you are probably going to want binoculars or, ideally, a telescope to make sure that you get to see it. If you live in an area without a lot of lights, you may be able to spot the tail of Leonard without an instrument but you'd be risking not being able to spot it at all. If you just want to make sure you see it, the Virtual Telescope Project features footage of the Comet Leonard, along with photos and live streams.
This article was originally published on