Look Up! The Most Dazzling Comet of the Year Is Passing by Earth Right Now
Once Comet Leonard is gone, it's never coming back. So don't miss it.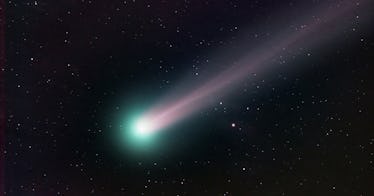 GETTY
The brightest comet of the year is about to be visible in the sky as 2021 comes to a close, as the comet Leonard can be spotted in the night sky through most of December. Here is everything you need to know to ensure you don't miss it.
The Comet Leonard
Leonard was a recent discovery, as Greg Leonard, a senior researcher at the University of Arizona, spotted it in January. It does not visit often, as the last time it was passed by Earth was approximately 70,000 years ago. And this will be the last time it will ever be seen by any of us, as once it passes by the Sun, Leonard will be shot out of our Solar System for good.
When Can I See It?
Right now! Robert Lunsford with the American Meteor Society told USA TODAY said that Leonard can be viewed right now pretty much anywhere except Antarctica. It will be closest to Earth (21.7 million miles away) on December 12, which is when it will likely be its brightest and most visible. It should be viewable through Christmas before it leaves us behind forever.
"It's heading downward with each passing morning," Lunsford said. "You probably could catch some tail of the comet."
How Can I See It
Obviously, nighttime is the best time to get a good look at Leonard. You are probably going to want binoculars or, ideally, a telescope to make sure that you get to see it.
If you live in an area without a lot of lights, you may be able to spot the tail of Leonard but you'd be risking not being able to spot it at all. The best chance to see it without any viewing instruments is around December 12-14. If you just want to skip the sky searching and make sure you see it, the Virtual Telescope Project will stream the comet on Dec. 3 at 10 p.m. EST.