This Map Shows The States with the Most — and Least — Christmas Spirit
Christmas Spirit activate!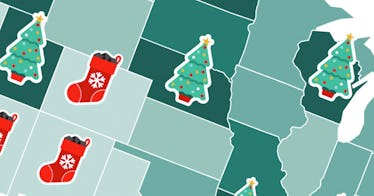 GetCenturyLink.com
There are two kinds of people when it comes to Christmas spirit: you either love it or you're… not a fan. People who love it and go all out tend to go big on Christmas lights, getting the tree up early, and putting that beloved Christmas music on repeat. But that's not the case for everyone. Have you ever wondered which states have the most Christmas spirit? What about the last? Thankfully, there's a handy new map that spills the details.
GetCenturyLink.com wanted to find out the answer to which state has the most spirit and which had the least. To do this, the publication measured online activity and the culture in the area to see which states had the most and least Christmas spirit.
Online activity included Google searches for Christmas movies and gingerbread houses, online shopping for wrapping paper, ornaments, cards, and Elf on the Shelf. They also tallied up how much Christmas music was being streamed, and how much tweeting was being done about Christmas.
For area culture, metrics included how much charitable giving was documented in the past year, and how many Christmas Tree farms were in the area per capita. GetCenturyLink.com took all the data from those points and popped it into an easy-to-read map highlighting the states with the most and least Christmas spirit.
"We found that New Hampshire, Maine, and Montana had the most spirit this year, stealing last year's top three spots from Utah, Idaho, and Montana," GetCenturyLink.com. "On the other hand, Hawaii, Florida, and DC had the least Christmas spirit last year, but Mississippi, New York. and DC showed the least spirit this year, with DC coming in last both years."
The states with the most Christmas spirit:
New Hampshire
Maine
Montana
Kentucky
Connecticut
The states with the least Christmas spirit:
Virginia
Alabama
Mississippi
New York
District of Columbia
To see the full details, including where your state lands on the list, check out GetCenturyLink.com.