Chrissy Teigen Reveals Beautiful Photo Of Newborn: She's "Out Here Looking Like A Baby"
Chrissy Teigen and John Legend welcomed a new baby into the world, and her face has been revealed in classic Chrissy style.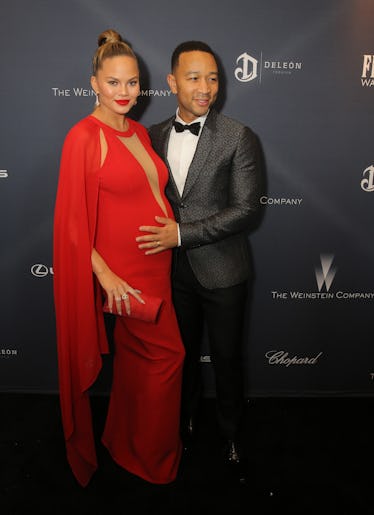 Variety/Penske Media/Getty Images
The Chrissy Teigen-John Legend family has a lot to celebrate! Chrissy Teigen and John Legend welcomed a new baby into the world on January 13th, a little girl. With their family another member larger, Chrissy shared their good news (and a beautiful photo of their little one) with the world in true Chrissy style.
Legend first announced the news during his set at a private concert, telling the crowd he "didn't get a lot of sleep" that morning after welcoming their newest family member," per People. Legend said he felt "energized" and was able to spend "a lot of time" at the hospital that morning.
And a few days later, the happy parents shared the news officially on social media. Teigen wrote, "She's here! Esti Maxine Stephens - the house is bustling and our family could not be happier," along with a photo of her two older kids holding little Esti while keeping her face shielded some in the image.
Their little one joins older siblings, 6-year-old Luna and 4-year-old Miles, after the loss of the couple's third child, Jack, who died at 20 weeks gestation.
"Daddy sheds nightly tears of joy seeing Luna and Miles so full of love, and I am learning you still need diapers with a c-section!? We are in bliss," she added. "Thank you for all the love and well wishes - we feel it all! X."
Legend shared the same image on his social media channels with a caption praising his wife of nearly 10 years. "On Friday, we welcomed Esti Maxine Stephens to our family, and our house is overflowing with love and joy," he wrote. "I'm in awe of Chrissy's strength and resilience and I'm so thrilled to see how Luna and Miles embrace their baby sister. I'm so, so grateful, but that doesn't seem like a big enough word."
Days later, Teigen introduced her new baby's face to the world with a full photo and her signature humor. "look at u out here lookin like a baby," the proud mama wrote in the caption. Her little one was peacefully sleeping in Teigen's arms.
While neither Teigen nor Legend explained the meaning or connection with choosing a beautiful, unique name for their youngest kiddo, there are some ties to her older kids and Legend, too.
According to Nameberry, Esti means "star," which goes perfectly with Luna, which means "moon." As for Esti's middle name Maxine, Legend does have a song titled "Maxine's Interlude" from his 2006 album Once Again, and Esti's last name, Stephens, is Legend's legal last name.
Ahead of their daughter's birth, Teigen has been open about the challenges that come with pregnancy after loss and how the death of their baby Jack had them protecting their hearts during pregnancy.
Teigen has never shied away from sharing the reality and complications of parenting, and she's still doing the same after Esti's birth. The day before sharing the photo of her daughter, Teigen posted a photo of herself on her way "to bandage together" her c-section wound following birth, milk stains and all.