Chrissy Teigen Posted a Tribute to Her Unborn Son on the Week of His Due Date
"I thought the worst was over but I guess life and emotions aren't on any sort of schedule."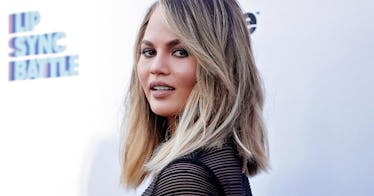 Getty
Chrissy Teigen has been open about the painful experience of losing her son Jack during pregnancy and yesterday, she posted a touching tribute to Jack on the week he would have been born. Teigen posted photos on Instagram from her husband John Legend's music video "Wild," which the couple used to announce that they were expecting their third child back in August.
"[These] are from our video shoot for Wild in Mexico," she wrote in the caption. "I was 10 weeks along and out of my mind happy. I knew the video would take a bit to get together so thought it would be cute to share our news with the world through the ol classic hand-on-belly trick at the end. I could have never imagined what would happen over the next 10 weeks…not sure I'll ever be able to watch that video again without sobbing but I hope he feels my tears and knows we miss him so."
Teigen wrote that Jack "would have been here any day now" and got incredibly vulnerable by sharing her regret with not looking at her son's face after the stillbirth. While at the time, Teigen was "scared of seeing him in my nightmares," she now is "hurt every day from that remorse."
"This month is a rough reminder and to be honest, I thought the worst was over but I guess life and emotions aren't on any sort of schedule," Teigen wrote.
Unless you have experienced something similar, it is impossible for any of us to even begin to imagine the pain that Teigen and Legend have had to go through since the loss of Jack. And Teigen's courage to speak so openly and honestly is nothing short of remarkable, especially since so many parents who have also lost children have shared how much her story has helped during their own grieving process.
This article was originally published on