This Child Care Calculator Shows You How Expensive It Is In Your Area
According to a new report, families are spending nearly a quarter of their income on child care.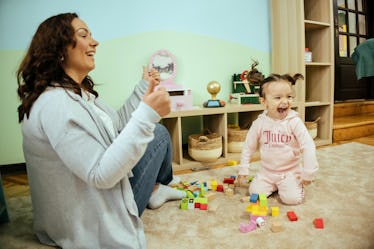 StefaNikolic/E+/Getty Images
Balancing family and professional life is difficult, even in the best times. But add to that the soaring costs of child care — one 2022 study found that the cost of child care had increased 214 percent since 1990 — and the difficulty of even finding care in the first place, and it's no wonder parents across the country are busting budgets, taking on second jobs, or leaving the workforce entirely to provide care for their children.
Care.com highlighted the soaring cost of child care in its 10th Annual Cost of Care report, a yearly compilation of childcare prices, fluctuations, and trends. They also released a calculator that allows parents and guardians to find out the average cost of that type of care in their cities. Enter the type of care you're looking for, along with their zip code, and you'll see a realistic number. (With a few more clicks, users will be rewarded with a list of caregivers that meet their criteria.)
While the cost of care is skyrocketing across the U.S., some areas have it a little worse than others. Residents of Washington D.C., Massachusetts, California, Washington, and Connecticut can expect to pay more for child care than anywhere else in the country, with rates ranging from $260 to $417 per week for infant daycare. Parents looking for care in Arkansas, Mississippi, Louisiana, Alabama, and South Dakota have the lowest average infant daycare rates in the country, ranging from $128 to $153 per week.
The calculator goes even deeper: if you're looking for child care in Dallas, Texas, expect to shell out an average of $18 an hour.
Want a babysitter in Seattle, Washington? Expect to pay more. Around $21 an hour seems to be the average cost.
Care.com's report also highlights some of the difficulties facing working parents these days. The team behind it surveyed 3000 people with children under 14 who pay for professional child care. They found that 67% of parents spend at least 20% of their income on care, up from 51% just last year. And, 10% of household income goes to child care for a whopping 89% of parents, an increase of 17% of parents compared to 2022 data.
The team also found that 23% of respondents experienced daycare center fee increases this year, and 79% of parents expect to shell out close to $10,000 this year just for child care. That's an increase of almost 20% from 2022.
Parents surveyed also discussed what they're doing to offset the financial demand. Thirty-one percent of respondents say they switched to more affordable daycare options last year, 27% lean on family and friends for help with child care, 20% moved to be closer to family and friends who can help, and 19% have taken on multiple jobs to cover the exorbitant costs.
"America's child care crisis is just that: a crisis for the entire country, and it impacts us all, whether you have children or not," said Tim Allen, Care.com's CEO. "Child care is claiming a disproportionate amount of household incomes, and a decade of rising child care costs should be a wakeup call that the system as we know it completely fails the vast majority of families."