Channing Tatum and Sandra Bullock's Daughters Had an Intense Preschool Rivalry
Though they're now best of buds, apparently they were initially trying to "alpha" each other out.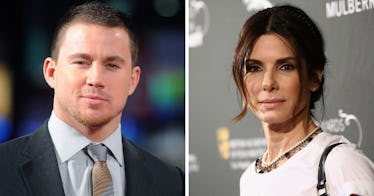 Stuart Wilson/Getty Images; Imeh Akpanudosen/Getty Images
We know that kids don't always get along with each other and to expect that would be unrealistic. At school, some children are always butting heads with each other. And apparently, that's how Channing Tatum and Sandra Bullock would describe their kids during preschool. The two actors' kids go to the same school and when they were in preschool, their little ones had an intense rivalry.
Sandra was the first celebrity Channing met when he moved to Hollywood. He attended her birthday party as someone's plus-one, and thought it was so cool he ended up there. But a few years later, the two would meet again – this time in the principal's office of their kids' preschool.
"We were called in together because Everly and Laila were trying to alpha the other one out, and we prayed it was the other's child that caused damage," Sandra explained to The New York Times in a joint interview with Channing promoting their new movie together The Lost City.
"I've blocked it all out," Channing joked. And Sandra agreed. "There's some PTSD attached to it," she said.
The Lost City