These 10 Celeb Families Absolutely Crushed Their Halloween Costumes
Classic stories reign supreme this year, and some costumes are better than others.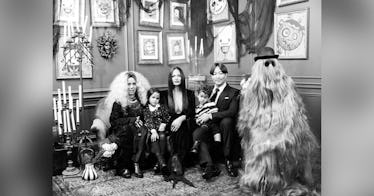 @chrissyteigen
There is so much work that goes into Halloween each year for parents. Some parents clearly go through more effort than others. And when you have extra resources and money, as celebrities do, their Halloween costumes can end up being a whole lot more extravagant than the average family's costume might be. But that's what makes them so fun to look at, and so much fun to aspire to.
But the gift in that for all of us is we can gather inspiration for next year's costumes – and maybe then have enough time to execute them. Here are the best celebrity family Halloween costumes.
1. Chrissy Teigen, John Legend, and Kids Are The Best Halloween Family Ever
Chrissy and her family went all out to transform themselves into the Addams Family. We're not sure who's in the cousin It costume, but we're happy to see It there.
2. Mike "The Situation" Sorrentino and Family Are The Best Superheroes Ever
The Incredibles is one of those classic family costumes that work every year. Even though there isn't a new Incredibles movie coming out next year, the Pixar movie is a true classic and The Situation and his family rocked it out.
3. Stephen tWitch Boss and Family Go to Sesame Street
For anyone who lives in a colder climate, these costumes are perfect. Also, Sesame Street is another forever classic that would totally work next year, too.
4. Andy Cohen and Son Go to Space
Astronauts were big this year, maybe because of all the private flights to the outer limits. Either way, there is a lot of opportunity in this costume to one-up the next year. You do have all the time in the world to DIY a cardboard rocketship, after all.
5. Ashley Tisdale and Family Go Big on Imagination
"Where the Wild Things Are" is a classic storybook for kids, and one of the first jumps into the world of imagination. Imagine all the other storybooks we can get inspiration from. "Good Night Moon," anyone?
6. Vanessa Bryant and Family Grow Spots
The 101 Dalmatians theme for Halloween costumes was a popular one this year. Several stars chose to dress as Cruella or the pups but Vanessa had her kids involved in the theme, too.
7. Bindi Irwin, Husband, and Daughter Go Big On Hippie-dom
Peace, Love, and Joy was the theme of this adorable hippie-inspired look for our favorite duo down under. It totally fits the vibe from the new family.
8. Tyler Hubbard and Family Go All In On Cinderella
Tyler from the country group Florida Georgia Line and his family went all out for their Cinderella-themed Halloween costumes. There are a lot of characters in this story so even if you have a bigger family, there are so many more options. Plus, all the Disney stories to pull from, too.
9. Neil Patrick Harris and His Fam Went All Out
This family goes out every year and somehow always one-up the year before. If you're looking for something fun for your family that hits on the real spirit of Halloween, this hits that on so many levels.
10. Luke Bryan's Family Became American Gladiators
Does anyone remember that show American Gladiators? Luke Bryan got the whole family involved in a themed Halloween costume. And they were all expected to run the gauntlet.
This article was originally published on