The CDC is Begging You Get Vaccinated If You're Pregnant: It's 'Urgent'
The highest number of COVID-19-related deaths in pregnant people was reported in August.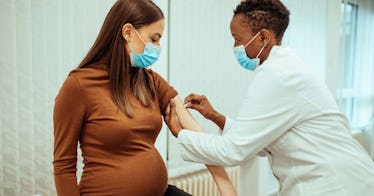 The Centers for Disease Control and Prevention released a statement recommending "urgent action" to increase COVID-19 vaccinations among people "who are pregnant, recently pregnant (including those who are lactating), who are trying to become pregnant now, or who might become pregnant in the future."
Since September 27, "more than 125,000 laboratory-confirmed COVID-19 cases have been reported in pregnant people," the CDC says, which has included over 22,000 hospitalized cases and 161 deaths in the United States alone. And, in a disturbing trend, that number has been increasing.
"The highest number of COVID-19-related deaths in pregnant people in a single month of the pandemic was reported in August 2021," the CDC statement said.
The reason for the rising number of COVID cases, hospitalizations, and deaths among pregnant people is that less than a third of people who are pregnant have been vaccinated. The CDC noted that there have been "racial and ethnic disparities in vaccination coverage for pregnant people" and encouraged healthcare providers to clearly communicate the risks of COVID, the benefits of vaccination, and information on the safety and effectiveness of the vaccination in pregnancy.
People with underlying health conditions are at an increased risk for contracting severe COVID. Pregnancy is considered an underlying health condition, meaning that unvaccinated people who are pregnant are at a greater risk of getting severely ill with COVID.
Unfortunately, misinformation about the risk of being vaccinated while pregnant has been spread all over the world wide web, even as the CDC has stated for months that there is virtually no evidence that it is dangerous to get vaccinated during pregnancy and "the benefits of vaccination for both pregnant persons and their fetus/infant outweigh known or potential risks."
A recent study found that there is no increased risk of miscarriage for pregnant people who are vaccinated, as the miscarriage rate of the approximately 2,500 women in the study was pretty much the same as the rate of the general population.
This article was originally published on