Brendan Fraser's Sons Rib Dad At Oscars: "His Dad Jokes Still Don't Hit"
"We're always gonna rag on him at least a little."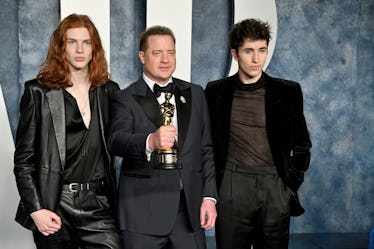 Lionel Hahn/Getty Images Entertainment/Getty Images
It was a huge night for Brendan Fraser, who attended the 2023 Oscars on March 12 at Los Angeles Dolby Theatre. Believed to be a favorite to win, Fraser hit a high in his career after winning his first Oscar. Along for the ride were two of his kids, who were there to support their dad and humble him a little, too.
The Oscars event was a family affair for Fraser, who took his two sons — Leland, 16, and Holden, 18 — down the star-studded red carpet with him. As the family entered the theater, stopping for interviews along the way, the Fraser boys ragged on their dad in the most loving way.
According to ET, Fraser and his boys stopped to talk to Kevin Fraizer and Nischelle Turner as they walked the red carpet (well, champagne-colored carpet) ahead of the Oscars.
Fraser was nominated for the coveted Best Actor award for his portrayal of Charlie in The Whale. Speaking with the ET correspondents on the red carpet, Fraser's sons gave an inside peek at their dad's parenting via his terrible dad jokes.
"At the end of a conversation, we'll say, 'Oh yeah, right.' And he'll say, 'Left,'" Holden shared.
Leland added, "I think my personal favorite has always been when we're kids and I'd say, 'I don't like broccoli,' and he'd say, 'Broccoli loves you.'"
Holden teased that his "dad jokes still don't hit" while admitting that his dad is still "pretty cool — I'll give him that he's pretty cool."
Leland echoed Holden, saying, "I mean, he's our old man, and he's always been cool. But we're always gonna rag on him at least a little."
During their walk into the theater, the Fraser boys also stopped to speak with Laverne Cox, sharing how thrilled they are for their dad's recognition at the awards.
"We are unbelievably proud," Holden said, per People, adding that both he and Leland were "over the moon."