Biden Relates to A Girl With A Stutter: "You Can Be Anything You Want to Be"
President Biden has vocally supported kids who have stutters as he grew up with one himself.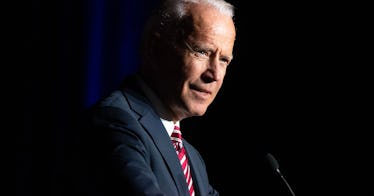 GETTY
A mom shared a heartwarming story about President Biden's touching conversation with her daughter after discovering that she has a stutter.
Biden was in Nantucket for Thanksgiving when he crossed paths with the Nigrelli family. Avery, a nine-year-old, told the President that she has "a stutter just like [him]." Avery's mom Jessica said that Biden then "dropped everything" to give some words of encouragement to her daughter.
"Remember this: it doesn't define you," Biden told Avery. "I have had a stutter my whole life and I'm now the President of the United States. You can be anything you want to be."
Jessica said that President Biden spent the next 10 minutes talking with Avery about "his stutter, about the movie The King's Speech and some of the tricks he uses when the words get stuck." He also invited her to visit him at the White House to see him in the Oval Office. Jessica spoke about how much this moment meant to her daughter and thanked Biden for his "humanity and compassion."
"My daughter will remember this moment forever," she wrote. "And I don't think she will ever feel hindered by her stutter in the same way ever again. Mr. President, as a mother, I want to say thank you, from the bottom of my heart."
Biden struggled with stuttering since childhood, as he was often bullied by classmates and was even mocked by a nun who taught him at the Catholic school he attended. Biden has spoken openly about how his confidence was shaken at a young age due to the way he was treated but how he was able to overcome his stutter by ignoring the people who put him down and working hard.
Now, as the President of the United States, Biden is able to inspire people struggling with stutters of their own that there's no limit to what they can achieve.