We Are Officially Entering Peak Daytime Moon Season
The daytime sky will be lit up by the moon until early May. Here's how to see it.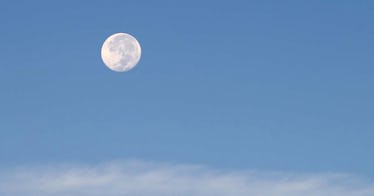 The supermoon has come and gone but that does not mean that lunar enthusiasts have to wait until next the month to get some prime moongazing. In fact, we have officially entered daytime moon season, as the moon could be visible in the morning sky for the rest of the month and into early May.
The reason for the daytime moon is that it is now in a waning gibbous phase, meaning that it will rise later and later over the next few nights. And the later rise also means a later setting for the moon, which gives us all the chance to see the moon in the sky during the day.
Technically, the moon is up in the morning sky all of the time but we cannot see it because of the brightness of the sun and the pale blue sky. Late April-early May is one of the best windows for moon-filled mornings, as the moon should be visible during the first few hours of the day for the next week or so.
"The moon in late April/early May is noticeable simply because the moon is still showing us most of its lighted face; it appears large in our sky," EarthSky's Bruce McClure explains.
Your best chance to see the morning moon is on Thursday, April 29, as the moon will set about two hours after sunrise. But you can still catch it for a few days after, though it is only expected to be visible for about an hour after sunrise.
The best part? You don't have to stay up late to do it and you don't need any sort of telescope to spot it, which makes it ultra-kid and beginner-friendly. The moon is most likely to be visible during the first few hours after sunrise so as you're enjoying your morning cup of coffee, try to remember to look out to the western horizon and see if you can spot it.
This article was originally published on