This Debate On the Best Gas Station Snacks Across U.S. is Too Fun
You may start planning a cross-country road trip just to try all of these gas station delicacies.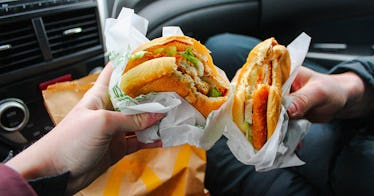 It's been said that getting there can be half the fun and in the case of road trips, that is true for one very specific reason: gas station snacks. After hours of driving, there is an indescribable pleasure in getting to briefly escape the tiny space you've been trapped in to embark on a brief quest for your favorite candy bar or discover some new, weird flavor of chips.
Scarfing down gas station snacks is truly an American rite of passage and to celebrate this national pastime, Eater compiled a list of the best gas station snacks by region. The list features a mix of obvious favorites, along with some more obscure choices that may surprise you.
The highlight for the Northeast seems to be Gobs. What is a Gob, you ask? It's a "riff on a classic Whoopie Pie" made by the Amish and can apparently be found at most local gas stations in Pennsylvania. The South unsurprisingly has a plethora of delicious gas station delicacies, including boiled peanuts in the Carolinas, beaver nuggets in Texas, and the absolutely iconic fried shrimp po'boy in Louisiana.
As for the Midwest, Iowa is apparently known for something called breakfast pizza, which sounds like an insane culinary invention that I would like to eat immediately. If you head to the West Coast for your family vacation, you can enjoy some tri-tip sandwiches at a gas station in central California and if you keep heading west, you, of course, must get some Spam musubi in Hawaii.
These are just a few of the highlights but you're going to want to check out the entire list so that if you find yourself at a gas station in Ohio, you'll know to grab some of Mama Mary's Hummus. Because when it comes to life on the road, quality gas station snacks can make all the difference.