Is Black Friday Over? Walmart, More Won't Open Stores on Thanksgiving
These superstores are leaving the pre-Black Friday tradition behind in a world where random sales and online shopping is king.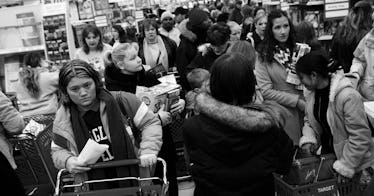 GETTY
Black Friday was once a post-Thanksgiving tradition that Americans held near and dear to their hearts, but the days of people waiting outside of superstores overnight in the hopes of getting a great deal on a flatscreen TV may be coming to an end.
Best Buy confirmed that its stores would not be open on Thanksgiving, joining Walmart and Target in unofficially putting an end to the dramatic lead up to Black Friday.
This decision seems to have been influenced by the pandemic, as the usual Black Friday shenanigans were obviously put on pause in the wake of the spread of COVID-19.
While the pandemic may slowly be coming to an end thanks to the vaccine rollout, stores like Best Buy and Walmart realized that the entire ordeal of the pre-Black Friday Thanksgiving shopping crush was increasingly unnecessary due to the prominence of online shopping.
In fact, online shopping basically gives shoppers all of the perks of Black Friday (great savings and the chance to get an early jump on Christmas shopping) without all of the hassle (being forced to stay up all night and risking getting trampled by your fellow shoppers).
Best Buy said it plans to make online shopping even more convenient for customers by offering expanded curbside pickup options and faster delivery services.
Plus, in a world of COVID, ensuring that workers don't have to deal with a crush of in-person shoppers who may or may not be vaccinated is a good deal.
"Ultimately, consumers really want convenience and they want to get their item and get out of the store quickly. They don't want to wait in long lines, they don't want to wait for a store to open anymore," Josh Elman, senior specialist at Nasdaq Advisory Services, told Insider.
So instead of having to sit out in the cold for hours right after stuffing yourself with turkey and yams just to try and score some discounted items, you can now get your Black Friday shopping done from the comfort of your own home.