How Benjamin Bratt Realized He Was Being THAT Sideline Sports Dad
Benjamin Bratt recently realized he's the type of dad that everyone loves to hate.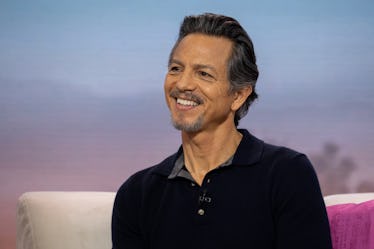 NBC/NBCUniversal/Getty Images
Benjamin Bratt isn't just an amazing actor with decades of experience under his belt — he's also a dad that's been at the gig for decades. With two kids in their late teens and early twenties, Bratt has done a lot in both his career and parenting, but he recently realized that there's a new role he's taken on — the very involved dad on the sidelines.
Bratt recently paid a visit to LIVE with Kelly and Ryan, and while chatting with Kelly Ripa and Ryan Seacrest, he realized something about himself.
"My daughter Sophia is 20," Bratt says, adding that his daughter plays basketball. "And my son Mateo, who is 17, he's playing ball [too], so we've become...for a long time...sports families because of what they participate in."
According to Bratt, his son is currently in his senior year of high school, and the basketball team he plays on is doing really well so far this season. They recently played in the playoffs, and Bratt never misses a game.
"We center everything around it, so if I have work, if I have dinner plans, it all goes by the wayside," Bratt admitted. He gets really into the games, too, sharing that he videotapes his son so they can put together a highlight reel.
But he recently learned something about himself while watching his son play. "I think I always thought that I was rather sort of quiet about things," he shared, "until I played back the tapes with sound."
When Bratt heard himself in his videos, he was shocked. "I thought I was a pretty courteous fan, but in playing the sound up, like there was always this ass behind me, with this loud [voice], like 'that's a foul! Call the travel, call the travel,'" he said with some oomph to his voice.
"I discovered rather quickly that it was me," Bratt admitted. He was getting really into the game — was that sports dad we all roll our eyes at.
Watch the whole interview on YouTube.