There's a Growing Nationwide Baby Formula Shortage — Here's What to Do
Shortages have been growing since November 2021, but parents have several workarounds.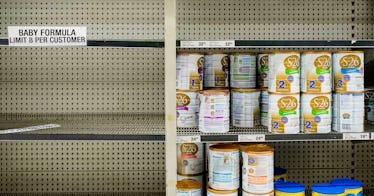 Christopher Pearce / Getty Images
The pandemic has caused a lot of stress and complications for everyone – but uniquely for parents, too. There have been aspects of our life we didn't realize would be impacted. One of those is a shortage of baby formula across the United States. It, understandably, has parents worried. But here's what you can do if you can't find formula.
Is there a national baby formula shortage?
There have been several shortages related to supply chain issues in many sectors. Early on, we saw bare grocery shelves where toilet paper or disinfectant wipes should have been. We were warned about empty toy shelves during the holidays, and specific holiday dinner staples were hard to find. All of that was stressful, but for parents hearing whispers of supply chain issues related to baby formula came with a whole different level of concern.
The New York Times reported formula shortages were happening across the country in late January, most likely "driven by a combination of supply chain issues." This included challenges with a lack of staff to work at getting the products on the shelves and a shortage of ingredients.
Since then, the out-of-stock baby formula has risen. According to NBC News, before the pandemic, "out-of-stock levels of baby formula hovered around 5 percent, according to the market research firm IRI Worldwide. Anything above 10 percent is concerning." In December 2021, an analysis by the consumer product data firm Datasembly showed the out-of-stock level was at 11 percent. It shot up to 25 percent in February. And regional differences are massive.
"We looked at 200-plus baby formula products commonly carried at the top 20 national and local retailers, including the three largest national grocery retailers," Ben Reich, CEO of Datasembly, said to NBC News, after looking into more than 11,000 stores. "Particularly, for areas like Florida and New Jersey, the average is between 40 percent and 43 percent, which means lots of empty shelves in the baby aisles among a number of stores," said Reich.
Adding to the already complex issue is a recent baby formula recall that has led to even more strain on baby formula in stock.
What should parents do if their area is experiencing a formula shortage?
It was stressful when we couldn't find toilet paper – the bare shelves certainly raised anxiety. But that anxiety certainly increases higher when parents are worried about not accessing their baby's primary source of nutrition. Still, experts warn parents not to panic because there are some workarounds.
"It is important that parents do not panic, first of all, because the shortage will be made worse by hoarding and stockpiling behaviors that happen when people get concerned," Dr. René Bravo, a pediatrician with Bravo Pediatrics said to KSBY News.
If parents can't find their baby's brand of formula, after a chat with their child's pediatrician, switching formula brands might be the best option when facing shortages. Bridget E. Young, a maternal and child nutrition specialist at the University of Rochester Medical Center, told The New York Times that switching to a generic formula version might be an option.
The experts stressed that it could be dangerous to dilute baby formula or to switch babies who are on more specialized diets. Other options could be calling around at more stores in the area, asking in Facebook groups, or checking with your doctor's office if they have any formula in stock.