The Most Popular Baby Name Trends of 2021 Were a Nod to This Wild Year
Between Marvel, politics, Netflix, and the pandemic, lots of new baby name trends were born.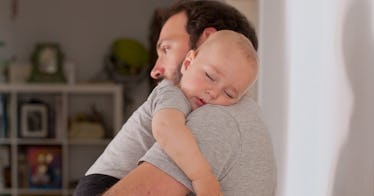 So much comes into play when new parents are trying to land on a baby name. It's one of the first decisions a parent must make and it's a big deal since, most likely, the name will be theirs for their lifetime. Each year there are trends that come and go in baby names. Some are influenced by movies or television; others take old classics and make them new again. The baby name trends for 2021 were an interesting mix of tradition and new names — and it makes sense, since 2021 was a really strange year.
Each year there are predictions from the experts on what times we might hear more often. These names are often influenced by something in real life and that's how trends are formed. As we close out 2021 and take a look at the baby name trends that dominated over the past year, it's clear that the popular names that stood out were a nod to this wild year we've had.
According to TODAY, this year's list of popular baby names saw a lot of the long-held top names drop lower down the list. And there were a lot of new names that made the top 100 for all genders.
New girl names on this year's list include Ottilie, Juniper, Cecilia, Willow, Ruby, Kaia, Esther, Saoirse, Alexandra, Sage, Lila, Millie, Margot, Avery, and Flora.
New boy names on this year's list include August, Danger, Noah, Elliot, Kieran, Nico, River, Remy, Cosmo, Ellis, Ari, Rory, Knox, Simon, Aurelius, Beau, Dylan, Kit, and Jonah.
So as you can see, there's a strong mix of tradition here — Cecilia! Alexandra! Margot! Kieran! Simon! — and very new-age names like Willow, Sage, Danger, Nico, Remy, and Cosmo.
But even if it seems like the names are all over the place from tradition to brand new superstar names, when we look at all the names, there are some trends that stand out. Baby Center reports that names that represent "strength, power, and resilience" were a big trend this year. And that makes sense when we look at everything parents have had to navigate this year, particularly with the pandemic and civil unrest throughout the country.
Another interesting baby name trend from the past year is names influenced by popular TV shows and movies. With the pandemic, there were many shows that saw watch numbers larger than we'd normally see. For example, Netflix's Bridgerton, which was one of the most-streamed shows ever (recently being beaten by Squid Games) had an influence over the rise of names like Eloise and Daphne, which grew in popularity this year.
The Marvel Universe also had a hand in the trends, particularly WandaVision. The names Wanda, Vision, Agatha, and Darcy all saw names jump, some up to 52 percent. Chadwick was up this past year too, likely in honor of Black Panther star, Chadwick Boseman. Scarlett was another that saw a big jump in the trends this year, which could easily be tied to Scarlett Johansson, star of Black Widow.
One other baby name trend this year comes from politics, particularly powerful women who made an impact on the world. Kamala, named after the country's first female Vice President, jumped up the baby name list this year. As did Ruth, a likely tribute to the former Supreme Court justice who passed away in 2020, Ruth Bader Ginsburg.
Go check out this year's full list of top 100 girl names and top 100 boy names here.