PSA: America's Funniest Home Videos Are Suddenly On Disney+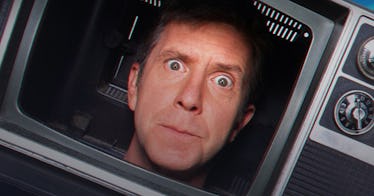 Disney-ABC
As the quarantines and shutdowns across the country stretch into the second month, many parents are all asking the same question: Is there a simple way I can watch a video of a dad getting punched in the nuts with a plastic baseball bat?
Thankfully, Disney+ has heard you, and as such, decided to drop a bunch of America's Funniest Home Videos on to Disney+. After all, there's only so much television, and finding family-friendly television that also isn't horrifically annoying (we're looking at you, Caillou and Paw Patrol) is often a tall order. But, luckily, Disney stepped in and dropped something surprising on their eponymous streaming platform: A total of nine seasons of America's Funniest Home Videos, which Fatherly considers one of the best pieces of family programming still around.
But is this the good stuff?
That's right! Disney+, for some reason, just published every season between 2002 and 2012 on their platform, and with over a dozen episodes per season, that's a whole lot of 40-minute episodes of funny videos to play for the kids that are appropriate and laugh-out loud funny.
The only difficult question from here is where to start with the 10 seasons of one of America's most-watched television shows. The screenshots alone suggest lots of hijinks — including a dachshund smelling a baby's butt and it seems like a whole half of an episode dedicated to "guys getting hit in the undercarriage" or "Dorky Dads."
So, yeah, while AFV might not join the ranks of bingeable prestige television like The Sopranos or Westworld, or even potentially The Tiger King, it does join the ranks of being something everyone can watch. It's also not heavy or too involved, which makes it delightful laundry television or a great thing to throw on and walk away from without missing any major plot points or character development, because there really are no characters and there is no plot (except for whichever video is the funniest that day.) It's worth stating again that even in the age of prestige television and in the era of peak TV, sometimes it's good to just watch something that really isn't peak TV. AFV remains that show. Enjoy it.