3 New JWST Photos Reveal Galaxies That Spiral & Sparkle
The three new images show spiral galaxies in a way we've not seen before.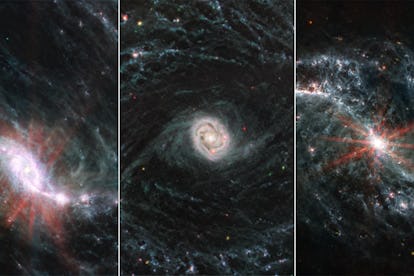 NASA, ESA, CSA, and J. Lee (NOIRLab). Image processing: A. Pagan (STScI) x3
On Feb. 16, NASA released three new images taken from the James Webb Space Telescope (JWST), using its impressive onboard tools to capture "nearby galaxies with unprecedented resolution." The three new images show three glittering, astounding spiral galaxies.
"Feel like you're spiraling? You're in good company!" the Twitter account for NASA's JWST shared. In each of the three photos, there's a bright spot in the center surrounded by waves of dust and sparkles. While the images are incredible, the details behind what we're looking at are really cool, too.
Can you explain what's happening in these images like I'm 5?
The images represent three galaxies: NGC 1365, NGC 7496, and NGC 1433. Each is a spiral galaxy that is part of an ongoing survey of 19 spiral galaxies where NASA researchers are hoping to learn as much as possible about star formation.
The first, NGC 1365 galaxy, approximately 56 million light-years away, shows "clumps of dust and gas" from the galaxy's center, which has "absorbed the light from forming stars and emitted it back out in the infrared." That's why the image shows swirls and colors — the infrared has lit up "an intricate network of cavernous bubbles and filamentary shells influenced by young stars releasing energy into the galaxy's spiral arms," according to NASA.
"Thanks to the telescope's resolution, for the first time we can conduct a complete census of star formation, and take inventories of the interstellar medium bubble structures in nearby galaxies beyond the Local Group," Lee said. "That census will help us understand how star formation and its feedback imprint themselves on the interstellar medium, then give rise to the next generation of stars, or how it actually impedes the next generation of stars from being formed."
The next image, the NGC 7496, approximately 24 million light-years away from us, shows some incredible details of the gas bubbles around the spiral arms of the galaxy and "glowing cavities of dust," according to NASA.
"Areas [that were] completely dark in Hubble imaging light up in exquisite detail in these new infrared images, allowing us to study how the dust in the interstellar medium has absorbed the light from forming stars and emitted it back out in the infrared, illuminating an intricate network of gas and dust," Karin Sandstrom, a team member from the University of California, San Diego said.
The final image released is the NGC 1433, which is approximately 46 million light-years away from us. And it's a whole new sight.
"For the first time, in Webb's infrared images, scientists can see cavernous bubbles of gas where forming stars have released energy into their surrounding environment," NASA explains.
"We are directly seeing how the energy from the formation of young stars affects the gas around them, and it's just remarkable," said team member Erik Rosolowsky of the University of Alberta, Canada.
To read more about these amazing images, check out NASA.