How A 10-Year Old Girl Survived 24 Hours Alone In the Cascade Mountains
A 10-year-old girl was rescued after she got separated from her family during a walk in the Cascade mountains, and she's being hailed as resourceful.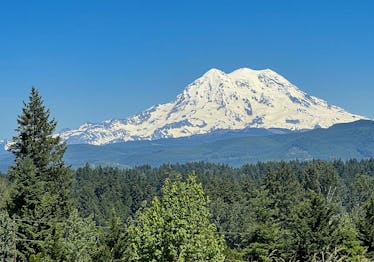 NurPhoto/NurPhoto/Getty Images
A 10-year-old girl was rescued after being separated from her family during a walk in the Cascade Mountains in Washington State. She spent the night alone in the cold but was found the following day, and is being praised for her resourcefulness at such a young age.
According to CNN, 10-year-old Shunghla Mashwani was visiting the Cle Elum River Valley with her extended family when she got separated from the group as they crossed over the river bridge to eat lunch.
Getting lost and separated from family is an experience no one wants to add to their memory bank. Having that happen in the Cascade Mountains can be particularly frightening given its steep landscape with remote, dense trees that look like they go on forever. Plus, there's no cell service in the area, and the temperatures get dangerously cold once the sun goes down.
RELATED: 18 Skills Every Kid Should Know, According to the World's Most Adventurous Parents
CNN reports that when the family noticed Shunghla was missing, 20 adults went back across the river to search for her. After about two hours of looking, a passerby called the police from a satellite phone, and hundreds of police and volunteers joined in the search — including K9s and helicopters.
More than 12 hours later, a team of volunteers found Shunghla — and she was alive and relatively unharmed, according to a Facebook post update from Kittitas County Sheriff.
Shunghla "had traveled south about 1.5 miles from where she was last seen, down the west side of the river," the sheriff's update read. "Snohomish County Swiftwater personnel used an inflatable rescue watercraft to bring her safely to the east side of the river where she was reunited with her father."
The young girl's resourcefulness is being praised for why she was found — and she managed to stay safe despite the dangerous terrain and frigid cold temperatures.
"She hiked downstream through the dense forest and spent the cold night between some trees. She said she knew it was the right thing to follow the river. According to CNN, she "proved an extraordinarily resourceful and resilient 10-year-old," the sheriff's office said.
However, other likely contributing factors helped Shunghla stay safe until she was found — the biggest is that she didn't panic. Speaking to the authorities following her rescue, the young girl said she knew what she needed to do and had a level head about it.
"I was trying to go to sleep in the night and then wake up early in the morning, and then I'll find my dad and mom in the forest," Shunghla told CNN affiliate KING of her night in the wilderness.
Being able to stay calm in a situation that would stress out any adult is likely what helped her more than "following the stream," which is wise advice for someone looking to get out of a forest and not walk in circles. But it might not be the best move for a 10-year-old who likely would have been found faster if she had stayed put.
Her familiarity with forests was likely another factor that allowed her to keep thinking through her best moves for staying safe until she was reunited with her family. As CNN explains, Shunghla and her family moved to the United States two years ago from Afghanistan, and spending time at the Cascade Mountains is something they love to do because it reminds them of home.
Spending time in forests from a young age likely allowed Shunghla to develop some experience with getting lost and learning essential outdoor safety skills. Or, as climber Alex Honnold once explained, an essential skill all kids should learn about the outdoors is to "develop a tolerance for the discomfort."
"It gets dark and starts to rain? No problem, that's just part of life," he said. "Being a little cold and wet doesn't really matter on the grand scale."