What The World's Greatest Adventurers Teach Their Kids
What outdoor skills should your kids know? We went to 18 professional explorers, athletes, and naturalists for answers.
by Jayme Moye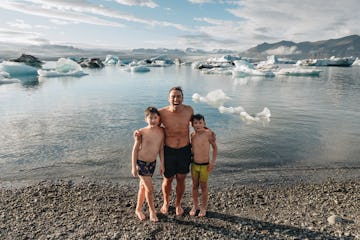 Chris Burkard
There's no more rich classroom than the one found in the great outdoors. Nature has a lot to teach our kids. There are of course the concrete skills — the knots and fire-starters and natural fishing lures you find in Boy Scout manuals or the mind of Bear Grylls. The softer skills are no less profound: stewardship and humility and how to "live deliberately," as the great outdoorsman Thoreau put it. When it all comes together, it's hard to overstate how much of an impact a relationship with nature can have on a kid. "The hard skills, the conservation ethics, risk tolerance, stewardship, and more will eventually come if they are drawn to the thing, whatever it is, that brings them outside more often," says Eric Larsen, a polar explorer and dad of two kids who know their way around a campsite. Still, nature can be harsh — a cold, wet, and downright dangerous classroom — and as parents, we need to guide the kids. To home in on the parental tools needed to safely navigate this rich and varied world, Fatherly went straight to the biggest names in adventure and asked them for the single most important skill they have (or plan to) pass down to their children. The result is a master class in adventure skills, for parents to explore and kids to learn.