The 11 Things Worrying American Parents The Most Today
Modern parenting comes with unique concerns, a new Pew Research Center survey has revealed.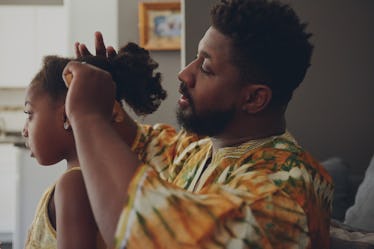 Biz Jones/Image Source/Getty Images
All parents worry about their kids — it just comes with the territory. But today's parents are dealing with situations that their own parents never had to worry about, situations for which there really isn't a blueprint. From epidemics of gun violence, online bullying, and a burgeoning mental health crisis, to concerns about becoming an adult in a time of almost unprecedented economic uncertainty, parents have a lot to worry about regarding their kids' well-being.
New data from the Pew Research Center highlights some of these concerns and shines a light on what today's parents are most concerned about and how they feel about parenting in the 21st century. Here are 11 of the biggest concerns modern parents have for their children, ranked from least to most concerning.
11. Marriage
Only 21 percent of parents said that their children getting married was important to them, and just 20 percent said their children having kids of their own was a priority. Forty-six percent of parents said that their children getting married or having kids were not important at all.
10. Teen Pregnancy
Teen pregnancy and legal trouble were the least concerning for parents of all income levels and ethnicities. Dads reported being extremely or very concerned less than moms in all the areas discussed.
9. Drug And Alcohol Abuse
It seems parents are not overly concerned with their children having troubles with drugs or alcohol. Only 23 percent of parents said they were extremely concerned about their kids having trouble with drugs or alcohol, while 30 percent were somewhat concerned and 47 percent "not too concerned/not at all."
8. College Degree
Only forty-one percent of parents said their child obtaining a degree was extremely or very important, and Asian parents (70 percent) were more likely than other ethnicities to prioritize a degree. Hispanic parents (57 percent), Black parents (51 percent), and white parents (29 percent) were less concerned with college graduation.
7. Gun Violence
Somewhat surprisingly, in light of the 51 school shootings and 647 mass shootings in 2022 alone, the majority of parents polled were not concerned that their kids will be shot or harmed by gun violence, which is now the number one killer of kids in the U.S.
Forty percent of low-income parents, 16 percent of middle-income parents, and 10 percent of high-income parents reported being extremely or very concerned about gun violence. Hispanic parents (42 percent) were more likely to be concerned by the possibility of gun violence than Black (32 percent), white (23 percent), or Asian (12 percent) parents.
6. Physical Violence
Over 40 percent of low-income parents are extremely or very concerned about the possibility of their child being harmed in a physical altercation or being attacked. Twenty percent of middle-income parents and 11 percent of high-income parents share this concern. Hispanic parents (44 percent) are more concerned about physical violence than Black (27 percent), Asian (27 percent), or white (11 percent) parents.
5. Kidnapping
Close to half of low-income families and a quarter of middle-income families reported being extremely or very concerned about their children being kidnapped or abducted. These concerns were more prevalent in Hispanic (43 percent), Black (32 percent), and Asian (26 percent) communities than in white (21 percent) communities.
4. Bullying
Despite the many anti-bullying campaigns both in schools and in the media, parents still rate bullying as a big concern. Almost half of low-income parents, 33 percent of middle-income, and 24 percent of high-income parents are extremely or very apprehensive that their child will be the victim of bullying. Mothers were more likely than fathers to report bullying as a concern, and Hispanic parents were more concerned about bullying than Asian, Black, or white families.
3. Mental Health
Parents across demographics say they are concerned for their teen's mental health, per Pew. Forty-eight percent of low-income families, 38 percent of middle-income families, and 32 percent of high-income families reported that they are extremely or very worried their teen will struggle with anxiety or depression specifically.
Teens today are struggling with their mental health more than previous generations. According to data from The Jed Foundation, a non-profit dedicated to protecting the emotional and mental health of teens and young adults, around 30 percent of teens experience some mental health concern each year. Almost 30 percent of teens have been diagnosed with anxiety, and 25 percent have been diagnosed with depression.
2. Financial Stability
All parents want their kids to thrive, but it turns out that might look a little different in today's parenting environment than it did for previous generations. While marriage, a big house, and a couple of kids were always considered the "American Dream," today's parents' hopes for their kids have veered a little.
Nearly 90 percent of parents said they hoped their children would find financial independence as adults, which isn't a big surprise and is not too different from previous generations. These findings hold true across ethnic and income demographics.
1. Job Satisfaction
Similar to financial stability, around 90 percent of parents across ethnicities and income demographics reported hoping their children find work they find enjoyable. Today's parents are placing a higher value on work satisfaction than grinding out a miserable job just to pay the bills, as evidenced by the so-called "Great Resignation" and the trend of "quiet quitting" that has been so prevalent since around 2020.