Children's Mental Health is a "National Emergency." There's a Plan to Help.
The Biden Administration released new guidelines for schools to ensure the emotional needs of students are being met.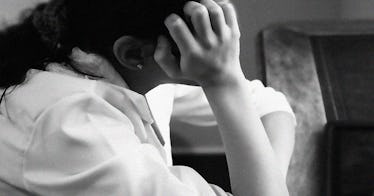 This week, the Biden Administration and the Department of Education, led by Education Secretary Miguel Cardona, unveiled a 7-point plan that is meant to provide guidance to schools when it comes to addressing the mental health of students.
Education Secretary Miguel Cardona told Teen Vogue that we "need to restructure our schools" to ensure that the emotional needs of students are being met. But what is actually in this plan, and why is the Biden administration targeting the mental health of children? Here is what you need to know.
What Is the Plan?
Biden's Department of Education has identified 7 challenges that students are currently facing when it comes to properly caring for their mental health, including rising mental health disparities among children and student groups and perceived stigma as a barrier to resources even when they're available. But identifying problems is not enough, which is why the administration has offered 7 recommendations for addressing these serious issues.
What Are the 7 Points?
Prioritize wellness for each and every child, student, educator, and provider
Enhance mental health literacy and reduce stigma and other barriers to access
Implement a continuum of evidence-based prevention practices
Establish an integrated framework of educational, social, emotional, and behavioral health support for all
Leverage policy and funding
Enhance workforce capacity
Use data for decision making to promote equitable implementation and outcomes
Why Now?
This new strategy comes just as the American Academy of Pediatrics (AAP), the American Academy of Child and Adolescent Psychiatry (AACAP), and the Children's Hospital Association declared a national emergency in children's mental health. AAP President Lee Savio Beers said in a statement that policymakers and politicians "must treat this mental health crisis like the emergency it is."
At this point, it's hard to even fully gauge what the long-term mental health ramifications of the pandemic will be on children, as certain effects could take years. But it is clear that the pandemic has had a profoundly negative impact on the mental health of children across the country and that if we do not take aggressive action to support them, there could be serious consequences. Hopefully, the Biden administration's plan is the first step towards making mental health a real priority in the United States, especially for kids.