President Trump's Border Crisis: He Refuses to Take Care of Brown Kids
The president isn't wrong that child migration patterns have shifted, but his shortsighted, racist policies are an abomination.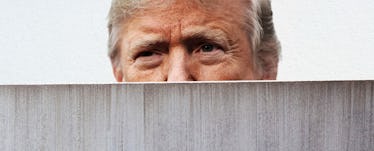 GETTY; Fatherly Illustration
During an address to the nation on Tuesday night, President Trump called for approximately $5.7 billion in funding for his proposed wall, which he argued was paramount in slowing the flow of "illegal aliens" and "vast quantities of illegal drugs" from Mexico into America. He repeatedly used the word "crisis" and further claimed that 20,000 migrant children were brought illegally to the border, strongly implying that these children were pawns in a game being played by drug traffickers and gangs. Though these inaccurate claims are not new, Trump's attempt to conflate the arrival of children at the border with a national crisis was noteworthy because it gestured toward the truth. The reality is that an increasing number of unaccompanied minors from countries where children are targeted by gangs are arriving at the border to legally seek asylum.
The gross mismanagement of these kids has led to crisis and to death. Some 22 migrants, children and adults, have died in U.S. custody since Trump assumed office. There were two deaths in December alone: On December 6th, a 7-year-old girl named Jakelin Caal Maquin died after crossing the border with her father, and on Christmas Day, Felipe Alonzo-Gomez, an 8-year-old Guatemalan boy, also died in government custody. For context, there have been 188 deaths of migrants in U.S. custody in the past 15 years, and 22 of those have happened in the past 24 months.
Without getting into the efficacy of the wall as a means of controlling drug trafficking (experts claim a wall would need to be 35,000 feet tall in order to stymie illegal migration) and undocumented immigration (overstayed visas remain a much bigger issue than border crossings), Americans should dwell on how the federal government, under Trump's leadership, has characterized and reacted to the threat posed by, essentially, brown children.
Last week, the Department of Homeland Security released a report, in which they stated that there were "more children and families being apprehended between ports of entry" — that is to say, along unmanned stretches of border — "than ever before." That assertion is at the very least misleading. The truth is that children are coming to the border alone more often than ever before, but the number of those children being apprehended has dropped far below Bush-era levels. What's true is that children represent roughly double the percentage of people apprehended at the border — a lower total — than they did in 2001.
For 12 years, from 2001 to 2013, only 9 percent of apprehensions were of children. Over the past four years, that has more than doubled, to 23 percent.
And apprehended probably isn't the right word. The vast majority of children who have sought asylum at the border in recent years are from what is known as the "Northern Triangle" of Central America — Guatemala, Honduras, and El Salvador — a region that has seen growing violence and, thanks to Trump, cuts in aid. In the fiscal year 2018, some 350,000 juveniles and adults from the region were "apprehended" at legal points of entry along the border. These aren't children sneaking in with coyotes or smuggling drugs; these are kids presenting themselves to border agents and asking to be processed and background-checked in accordance with American law.
Under Trump, border agents have been directed to not process some of the migrants. But blaming the children for that is absurd. The humanitarian crisis at the border is clearly a product of mismanagement, incompetence, and countervailing directives. It's not a product of children choosing to suffer in unprescribed ways.
So when we talk about the crisis, it's important to remember that we're talking about kids. The Trump administration has detained nearly 13,000 migrant kids under a rewritten sponsorship policy that makes it harder for American residents and citizens to claim children who have come to the border. The new policy requires people living in the United States to get fingerprinted and enter the DHS's system in order to sponsor children. Until late last month, that policy required that every single person living in the household of the sponsor had to do the same — leading to a backlog and to some children being removed from their sponsor's home. The primary caretaker still had to be fingerprinted, meaning that of the many people who sponsor migrant children who are undocumented and even among those who aren't, the process takes months to complete. Bottlenecks were inevitable. This was easy to see coming.
There's also plenty of reason to believe that the Trump administration saw it coming and leaned into the problem, currying favor with a reactionary and racist base by treating the incarceration of civilians and traumatized children as a photo-op for migration hardliners. The result? Trauma. Experts who visited those camps found signs of cognitive regression like bed-wetting, failure to recognize familiar faces including parents, sexual and physical abuse, and improper medical treatment, which has led to death in at least two cases.
Children are, as Trump claims, the biggest victims of the "border crisis." The are also the biggest victims of Trump, who has forced kids into for-profit camps manned by staffers who aren't background-checked or properly trained. Trump doesn't need congressional funding to find a solution to the problems he has created or to alleviate the suffering of children. He is simply choosing not to do those things. Instead, he is focused on giving his core supporters the pointless wall they were promised — a wall that only makes sense if the United States feels existentially threatened by children rather than compelled to help them. Hopefully it has not come to that.
This article was originally published on