6 Things Every Couple Needs to Know About Using Sex Toys
Though sex toys are becoming less taboo, there is a lot of misinformation floating around our pleasure products. Here's what to know before buying one.
by Carrie Weisman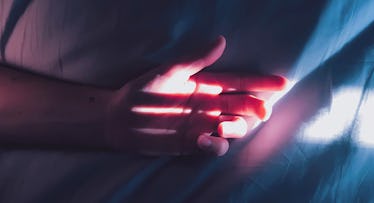 If you're curious about sex toys for couples, know that you're not alone. The online market for sex toys has been climbing steadily for years — by 2017, the sex toy market was worth $10 billion, and it's projected to exceed $35 billion by 2023. With numbers like that, it's safe to say we've got a lot of products around the globe. For all the couples out there who've winsomely thought about how great it would be to spend more time together, the current lockdown presents the opportunity to think more deeply about what we want out of our relationships and our sex lives, to master new skills, and to try new things at home. Perhaps indulge your curiosity about sex toys — or if you're already a sex-toy enthusiast, to explore new sex toys for couples.
It is true that adult novelty items are gaining steam. However, just because a subject loses its taboo doesn't mean we become any better informed. Americans, it seems, are a hugely undereducated demographic when it comes to sex, especially the kinky variety, and by extension, the best sex toys for couples and individuals. We reached out to the experts in order to help fill this particular knowledge gap. Because the more we know, the better we play. With others, and with ourselves.
Do Your Sex Toy Research
The sex toy industry has experienced some amazing innovations over the past few years. Today, we've got toys designed specifically for the penis, the prostate, the clitoris, and the G-spot. There are toys that couples can use during sex, and toys that can be activated remotely. There are toys that vibrate, toys that pulsate, toys that suck, toys that blow, and toys that stroke. It's important to recognize the variety that exists and select accordingly. It's also important to keep in mind that many functions one toy can provide. "There are different areas on the body that can be stimulated in many different ways," Richardson reminds us.
Sex Toys Are Great, But They Don't Make for Great Surprises
Picking out a sex toy is fun. It's one of the few instances where we can apply the knowledge we've acquired of our bodies and their pleasures to the retail world. It helps you expand on your fantasies and expectations for orgasm. And that's something to look forward to. So please, don't take that opportunity away from your partner. If you're thinking about picking something up for your partner, make sure to include them in the process.
"If you and your partner have discussed the potential of adding a toy and there is already consent on trying something new, then yeah go for it, says Kit Richardson, a certified sex educator and buyer for a major New York City sex toy retailer. "But only embark on this endeavor if the communication has been there."
She adds: "Much like sex, there's nothing worse than when you don't communicate and surprise your partner with something new that they may or may not be comfortable with. Maybe plan a date night where you both head to your local sex store and shop together. It's a great place to be inspired."
Stick to Sex Toys Made From "Body Safe" Materials
Sex toy materials can vary, and not all can be considered "body safe." Stay away from sex toys containing phthalates, for starters. They are considered toxic and should stay far away from the nether regions. Richardson also suggests avoiding materials like jellies and TPE. "They are porous and no matter how much you clean these toys, they will store bacteria." Your best bet is to stick to glass, steel, and medical-grade silicone.
Know What To Pair Them With
According to Richardson, lubrication is key for any sexual engagement and exploration, especially when it comes to sex toys. Sure, women are able to produce natural lubrication, but not everyone is able to provide enough to avoid discomfort. In that instance, it's important to invest in some lube.
"Lube enhances any sexual experience by preventing all types of chafing and creating a beautiful sexy slick and slippery moment between two forces rubbing together," says Richardson.
Now, it is important to note that not all products can be used safely with sex toys. "Silicone lube, while the slipperiest and ideal for fun, is not compatible with silicone toys. Use a water-based or hybrid lube that is toy and body safe." If you're into a more "all-natural" approach, she suggests looking into coconut oil waters. Though, she warns, oils can lead to vaginal infections. They are also not compatible with latex condoms.
They're Nothing to Get Jealous About
Too often, we hear about fears of being replaced by the machine. And yeah, that extends to sex toys too. Sure, it can be a little awkward to incorporate a sex toy into the bedroom. It also takes a certain level of maturity to accept that you might not always serve as your partner's preferred vehicle for orgasm. But, remember a sex toy is not a replacement for a partner.
"Sometimes we want sprinkles and sometimes we don't, but that doesn't mean our fierce love for ice-cream changes. The way it tastes, the way it feels… we crave it no matter what," says Richardson. "That fear is rooted in something more, so talk to your partner about sex toys and your fragility."
Remember to Clean Them
Like almost anything we use and reuse in intimate ways, it's important to keep your sex toys clean. "Toys can store bodily fluids and bacteria, and if you aren't cleaning toys properly you leave your body susceptible to all types of germs and infections," says Richardson. "Wash your sex toy before and after use, and be sure to store it in a safe space away from dust, sun, and not touching other toys." She suggests investing in cleaning wipes of foaming wash to help with the process. Silicone, glass, or steel products can even be boiled.
Sex Toys for Couples : Quick Tips
Different body parts can be stimulated in different ways and sex toys for each area exist. So do your research on how each one can meet you and your partner's needs before making a purchase.
Toys made from jellies and TPE store bacteria easily so avoid them and stick to steel, glass, or medical grade silicone.
Not all lubes pair well with sex toys so, for safety reasons, pay attention to the material yours is made from and how well it goes together with your toy.
Wash your sex toy before and after they are used and store in a cool dry place.