La Colombe Founder Todd Carmichael is a Father, an Adventurer, and a Good Dude
Firebrand entrepreneur Todd Carmichael has four adopted children, a bit of an attitude, and a notion of how to do better than his corporate rivals (cough, Starbucks, cough).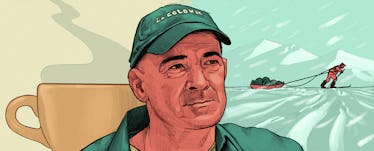 Kreg Franco for Fatherly
Modern cities are so cluttered with coffee shops full of tattooed baristas who unsmilingly pour milk into little hearts in little-er cups for four bucks a pop that it can be hard to untangle the chains. What differentiates between the Starbucks from Stumptown from Blue Bottle from La Colombe? These third wave caffeine pushers are difficult to tell apart. That said, their founders aren't. Or, more precisely, Todd Carmichael isn't. He's one of those guys that can't help but stand out.
Todd Carmichael, the foul-mouthed big-hearted founder of La Colombe as I did on a recent afternoon in New York, and you'll never be confused again. Carmichael, 54, is an adventurer, an entrepreneur, and a bald-headed Philly guy with strong opinions. He became the first American to trek solo across Antarctica in 2008 and the first guy to can draft lattes in 2016,, which is at least part of the reason La Colombe was recently evaluated at a billion dollars. We spoke on the day every American Starbuck was shut down for sensitivity training. He was making a push for some new flavors of his draft latte in a can — coffee shandy is surprisingly delicious — but, as the father of four children, Yemi, 16, Yordi, 13, Selah, 10, and a lone boy, Bek, 7, adopted from Ethiopia, Carmichael was ready to talk about race.
READ MORE: The 100 Coolest Dads in America Ranked, 2018 Edition
Carmichael and his wife, the musician (and anthemist for the Philadelphia Flyers!) Laura Hart are white. Their four children are African-American. "Ethiopian-American," he corrects me. The family lives in Gladwyne, a very affluent very white suburb of Philly, which has made for interesting interactions. "I'll be at a party with 30 kids and there's one black kid. A Dad will say, 'So which one's yours?' and I'll go, 'The black one' And they can't fucking take that I just said that," Carmichael laughed. He and his family live in Gladwyne, a well-off, mostly white suburb of Philadelphia. "What am I gonna start with, 'The one with the blue shirt and fucking sneakers?'"
Carmichael has a contagious laugh and an infectious enthusiasm which fills a room, in this case, the glass-enclosed laboratory at La Colombe's location on Vandam Street in downtown Manhattan. Dude can hold court, which is what he's doing for my amusement and to the glee of a dyad of publicists. They're paid to be charmed. I'm not. Still, I can't help it. Carmichael has jokes and a dirty mouth and a twinkle in his eye. This magnetism surely is part of the appeal of La Colombe but has also landed Carmichael a gig as a host on The Travel Channel for two shows, Dangerous Grounds and Uncommon Grounds (get it?) on which he trots around the globe doing badass stuff between sips.
Though he's pretty extroverted, Carmichael also has a loner vibe about him. He's driven in a way that leaves others behind. He ran his first marathon at age 15. He frequently — until he had a family — fucked off for month's at a time to pursue adventures from surfing monster waves to climbing freakish peaks. And for years he was a confirmed bachelor. "The kind of things I was up to, theoretically, were very attractive to do. But in practice, it's not so cool," he says, "They don't like it when you disappear for two months and they think you're dead. Women fucking hate that."
But fifteen years ago, he met a singer/songwriter Lauren Hart, daughter of famed Philadelphia Flyers announcer, Gene Hart. Carmichael already knew he wanted to adopt and when Lauren unbidden brough it up on their first date, he knew he had found the one. But he didn't know he had a daughter until five years later, he says until he was trekking Antarctica. "I was ten days away from the pole when my wife calls and said, 'We're gonna have a daughter.'" It turns out Hart was in Addis at the time and had met 8-year-old Yemi, whose full name means Night Gold. It took a year for Yemi to arrive in the States, during which time Carmichael and Hart assiduously prepared. "To bring home an eight-year-old is tough for you and for them. There's a lot of anger there," he explains, "You want to dedicate a year. Fortunately, I had spent a year preparing for one climb so I know how to I've up a year of my life and just focus on one thing." Over the next nine years, Hart and Carmichael have repeated that process three times.
Carmichael grew up in Spokane, WA, and has always been a progressive. "My employees know I'm a fucking Commie," he says . But now there's no avoiding it, not at work, not at home. The current political climate has shaken the Carmichael kids, like it has many children of color. According to a recent study, many children — mostly children of immigrants or immigrant children themselves — have been traumatized by the election of Trump. And even if its not the administration that places them in danger, the fear is well founded. According to the a study from the University of Warwick, hate crimes spike after many of Trump's many inflammatory tweets.
"We've had a hard time," he admits, "The world has become a little different. Selah has been told she should be lynched, and had the N-word Sharpied in the bathroom at her school. Bek came home from Montessori and asked me, 'Is it true that now with this President I have to go back to Ethiopia?' I was like, 'No, bro.' But this shit is incoming all the time. The landscape for being a father is a little bit more challenging now.'"
ALSO: What Does It Mean To Be a Cool Dad in 2018?
And that brings us to the recent incident at Starbucks, a company Carmichael describes as "a progressive company that I don't hate." Fundamentally, Carmichael thinks what happened in Philadelphia that day, "is not a Starbucks problem, dude. It's an American problem that popped up in Starbucks." What Carmichael thinks went wrong is that "they misunderstood their part in their communities. You can't just be a top-down company whose main focus is proficients and lower cost. You have to be a safe space for the community so everyone can feel welcome."
This empathy predated the arrival of Yemi, Yordi, Selah and Bek. Perhaps it is innate — it certainly is — perhaps some of it was developed in the late mile deep water of marathons and ultramarathons and in the lonely months alone in Antarctica. But the impulse was polished by coffee. In his peripatetic adventures, Carmichael has seen first hand the inequality inherent in the coffee trade. Like chocolate, coffee is a commodity crop, meaning that the people who are farming and harvesting it live under vastly different conditions than people consuming it. Coffee flourishes in many of the most war-torn and poverty-stricken nations in the world from Rwanda and South Sudan to Colombia and Haiti. Carmichael has seen it all. But, he says, "having a child opens your vision of the world in a way nothing else can. And that's if you make your own child. If you actually adopt a child, but similar to you, it opens more because now you're thinking about different aspects and cultures, And if they have different ethnic backgrounds, it opens it up even wider. So you have this amazing view that as an adopted child, someone from Ethiopia might view the world."
In many ways, race is at the centerpiece of his life. "Black families speak about race almost every day," he says. "Blended or mixed families speak about race almost every single day. White families don't ever. And so there's this real discomfort if you've only lived in that space, because it's not something you're used to talking about. There's a little fear, it's so new. For us, it's not."
You might — I was — be tempted to place the difficult conversations Carmichael has had about race with his kids alongside his other heroic deeds — so many mountains, deserts, and seas have been conquered. But Carmichael is very clear that his family is not a noblesse oblige operation. "Look, he says, "if you want to save the world, save the world. If you want to build a family, just do that." It isn't, he points out quite rightly, courageous to talk about race when one doesn't really have a choice.
There's also this: Even the most difficult conversations Carmichael has are suffused with his raspy charisma. On the day we met, he was chatty and in an expansive mood It could have been the steady stream of triple espressos that he downed throughout the conversation. But it wasn't. He was happy. He was whole. His daughter had recently started working at a La Colombe. This pleases him immensely. "Today's Yemi's first day working at the cafe," he boasts. She's gotta get gas money."
"She's a bar back," he added. "We're not letting her touch the machine just yet, but maybe someday."