The Girl Who Broke the Little League Gender Barrier
Kay Massar wanted to play Little League. Girls, however, weren't allowed. So, she chopped off her braids and became a legend.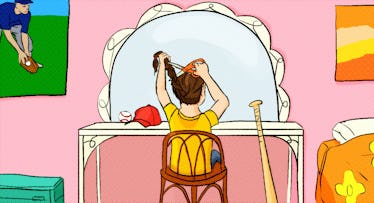 Kathryn 'Kay' Massar has been a trauma nurse, a mother, and a wife. At 83, she's pleased with her life, even if she is a bit hard of hearing. The hearing thing bothers her a little (her husband often helps her understand what's being said) but a little adversity has never halted Kay. If it did, she'd never have become the first girl to ever play Little League and the stuff of baseball legend.
Kay wanted to play baseball. She loved the sport and, well, was pretty damn good at it. But in 1950 when she was 13, it wasn't strictly "against the rules" for girls to play on Little League teams — there were no real rules about it at all except the assumed one that said girls weren't allowed. So, Kay pretended to be a boy, chopped off her braids, and took the pseudonym, "Tubby".
Within a year of her joining the team (she owned up to her folly pretty early on in the season) the organization changed the rules so that only boys could play the game. That rule was commonly referred to as "The Tubby Rule," and existed until the mid-1970s, until a lawsuit filed in New Jersey forced the Little League Organization to reverse course on their gender exclusion. Maria Pepe, the catalyst of that lawsuit, was heralded. The "Tubby Rule" was no more. Kay, not really wanting to take away an achievement from a young kid, waited a long time to come out with her truth. But eventually, she did.
Now, Kay's her story is everywhere. She's in not one, but two hall of fames. She's thrown pitches for the Yankees and in the Little League World Series. Recently, Disney bought the rights to her life story. And what a story it is. Here, Kay, with a little help from her husband, tells Fatherly about the day she joined the team, what it was like to be kicked out of the league, and all of the fun she's had along the way.
RELATED: A Father and Son's Journey to the Little League World Series Starts With a Red Baseball Bat
I wanted to play Little League Baseball in 1950. I was 13 at the time, but I was very small. I knew I was a good baseball player because I played with my dad and my brother all the time. My dad was my mentor. He kept telling me what a good player I was. My dream was to play on an organized team, and eventually get to play first place for the Yankees. I'm still waiting for the Yankees — but I did get to play first base.
My brother had gone out for the Little League team. He made the Knights of Columbus. I was really upset. I was talking to my mom and I told her that I wanted to go out. She was reading the paper and she said, "Well, there's another team that's organizing." It was two weeks after my brother made the Knights of Columbus. Another sponsor came into Corning, so I said, "I want to try out for that team." My mom said, "Why don't you go ahead?" I said, "I can't. Cut off my braids and let me go out as a boy."
My mom cut off my braids. I ran to my brother's room and I got a baseball cap of his and a pair of slacks — most of the time, back then, girls wore dresses, maybe shorts, if they were playing outside. I started to go out of the door, and I pushed the rest of my hair up in my cap. I said to my mom, "I don't know what to call myself." At the time, I was reading a lot of Little Lulu and Tubby comic books. My mom said, "Why don't you just call yourself Tubby? You love that name." So I signed up as Tubby Johnston. Had about three or four practices to be on the team, playing first base. Then I decided it was time to tell the coach that I was a girl.
ALSO: Little League Announces Plan to Emphasize 'Little' By Banning 13-Year-Olds
I told him because I was feeling a little pressure. Some boys were asking me if my name was really Tubby. I felt like, they're going to find out, I'm going to be thrown off the team. When I told the coach, his reaction was better than I thought it was going to be. He talked to the team members and said, "Well, you're a real good player, and to tell you the truth, we don't have rules for girls."
So I stayed on the team. I started off batting and playing first base. The first game we played, the pitcher walked me three times. The boys on my team accepted it. It was the other teams that didn't: they would push me down, they'd come to first base, I knew they were out, but they'd push me down anyway because I was a girl. Initially, the people in the stands booed me and they called me names. They didn't accept it. But after a while, when I was playing, I was sort of a drawing card for people to come out and watch little league.
I didn't want to push the issue and be upset about it because I just wanted girls to play. I cared, but I just ignored what they said. It hurt me. But I wanted to play on an organized team, and that was the only way that I could put up with the derogatory remarks.
I thought that there was a rule that girls couldn't play — but there wasn't. After I played one season, they put the rule in. A lot of people in Williamsport refer to it as "The Tubby Rule." They put that rule in for the Spring of 1951, and it said: "No girls, under any circumstances or conditions, will play Little League baseball." Little League, when it was first formed, was formed for boys and boys only. The rules were for boys. So, I'm fortunate that I happened to be in the right place in the right time, with the right coach.
I had to leave the team after they put the rule in. I couldn't play the following year. At the time, there were flexible rules for things like age. The only non-flexible rule was that boys, and boys alone, would play Little League.
I remember my dad hugging me when I got kicked off the team. I said, "You know, I am going to play for the Yankees someday." He said, "I bet you will, Kit-Kat." He called me a couple of names. The other was "Bonehead" because he said, "You never knew when to stop. You had to keep going and going until you could do whatever it was you wanted to do."
RELATED: Little League Has Adopted a New, Wood-ish Bat Standard
The years went by. I finished school and became a trauma nurse. I was in the air force and met my husband. I got married, had three children. In 1974, while I was nursing over at the hospital near Eastvale, California, I got a call from my twin sister. She said that they had given a girl credit to for being the first girl to play Little League. I said, "You know, I really don't care. She's a young girl. She should get credit for it."
She wanted me to call and correct the record, so my husband and I wrote a letter to the Vice President of Little League at the time. He asked what I wanted to do about it, I really just needed them to correct their records. And then 25 years later, I came home from duty as a nurse, and I'm listening to the news, and now they're celebrating the 25th anniversary of this girl.
I thought, well, she's 38, I bet she can handle it now. I called the Lance Van Auken the next day, when I was at work. I said, "I was watching the 25th anniversary of the first girl to play Little League. But go through your records. I was the first girl." He found my records that I sent in a little-used filing cabinet. He was writing a book on Little League and included me in it.
ALSO: The Best Baseball Equipment & Gear to Get Kids Ready for Little League
In 2006, I was enshrined in the baseball hall of fame in Cooperstown. And then, from that, it was the president of the Bank of America in Sacramento that heard about this and knew that I always wanted to play for the Yankees. He flew my husband and I to New York to throw out a first pitch. I was so excited about that.
It wasn't the best pitch I've ever thrown, because it was a one-hopper to Jorge Pasado. He's a really neat guy. He gave me a hug and a kiss and he gave me the ball but I forgot to have him sign it.
In 2010, I was asked to talk to the Pinto League World Series people at the Reagan Museum. That was exciting. That same year, I threw out a pitch for the Oakland A's. In the meantime, a book came out about me on March 7th of this year, called, "Anybody's Game," by Heather Lang.
MORE: Are Warm Ups Breaking Down Little League Pitchers?
In 2001, I threw out a pitch for the Little League World Series. I asked, "Can I throw out a pitch for the last game?" The last game was for President George Bush. I said, "Well, change it!" Put him in the semifinals and put me in the finals! ..He didn't do that. n 2014, they invited me back to throw another first pitch. I feel honored to be pitching at Little League games again this summer.
I didn't realize what I was accomplishing. I didn't realize that I was making history. I didn't realize it really until today, now that I'm talking to other Little Leagues and schools. They're impressed with the fact that I was able to overcome the obstacles that were in front of me and play the game that I loved. So I'm encouraging youngsters to do the same thing. If there's something they like to do, don't let things stop them. Keep going until you accomplish it.
Interested in Little League? Check out Fatherly's complete guide to all things Little League and youth baseball related. We've got great coaching tips, funny stories about life in the dugout, and features about the past and future of one of America's great athletic institutions.