"American Housewife's" Diedrich Bader on BBQ, Nicknames, and His Proudest Moment as a Father
The 'Veep' and 'American Housewife' actor opens up about raising his two kids.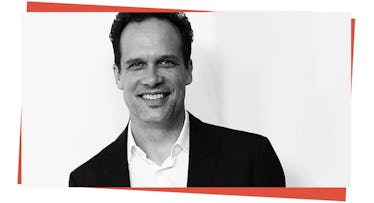 GETTY
You know Diedrich Bader. You may not recognize his name, but you certainly recognize his face (he's definitely appeared in something you've seen and enjoyed, like Office Space or Napoleon Dynamite) and timbre: Bader's performed voice work for everything from Ice Age to Scooby Doo. The guy stays busy.
Bader began his career getting bit parts in movies and shows, including Cheers, Star Trek: The Next Generation, and The Simpsons. His big break came in 1995, when he was cast as Oswald Lee Harvey in The Drew Carey Show. Bader appeared in all 233 episodes of the show's nine seasons.
Since then, Bader has been a mainstay on the big and small screen, with notable appearances in everything from Better Things and BoJack Horseman to Veep. These days, he can be seen on ABC's American Housewife, where he plays Greg Otto, the level-headed husband to Katie, the titular housewife. In real life, Bader is a proud husband and father of two, so we presented him with the Fatherly Questionaire, during which he discussed his proudest moment as a father, his favorite meal to make for his kids, and why he tells his kids he loves them as much as possible.
What is your name?
Diedrich Bader. Occupation?I am an actor.
Age?
I am 50 years old.
How old are your children?
My son is 14 and my daughter is 12.
What are their names?
My son is named Sebastian and my daughter's name is Ondine.
Are they named after anyone in particular?
No.
Do you have any cute nicknames for your children?
Sebastian really likes to be called Sebastian so no nicknames for him but Ondine likes to be called "Beanie." Her brother called her it one day and for some reason, it stuck. We've now called her every variation of "Beanie" imaginable. "Beans", "Lil' Bean", "Beanie baby". She's heard them all.
What do they call you?
Daddy.
How often do you see them?
I see them every day. The hours of American Housewife are pretty good. I have to get up early but I'm home in time for dinner. Every night we eat dinner together, then we watch a little television. And then we go upstairs and we read together for at least an hour. My wife and I are both actors so we do fun voices and try to play out scenes in the most imaginative ways possible.
When it comes to picking books, we tend to stick to the classics. We're reading Sense and Sensibility right now. Before that, we read Tale of Two Cities and The Three Musketeers. It's a lot of fun.
Describe yourself as a father in three words.
Present as possible.
Describe your father in three words.
Smart. Charming. Complicated.
What are your strengths as a father?
I'm willing to do the work that isn't fun. I'm happy to pick up after my kids or do my part with cleaning around the house. I'm a good listener. I have a sense of humor, which helps a lot as a parent. I'm willing to be totally honest with my kids, which is hard to do at times.
What are your weaknesses as a father?
I don't know if I always set the best example. I try to live up to the way my kids see me but I don't think I always do.
What is your favorite activity to do with your children?
We go hiking. We've traveled all over Europe to go hiking in some really amazing places.
What has been the moment you've been most proud of as a parent, and why?
My son wrote a play. He wrote it last year when he was 13. It's a two-act mystery. What really got me was he wrote this pretty political speech at the end that is spoken by a character who's an anarchist. It's really beautifully written and extremely heartfelt. I was so proud of him for writing that.
I'm proud to be Ondine's dad every day. She's so respectful to everyone and so incredibly talented. It's hard to think of one particular moment but I'm just delighted to be her dad.
What heirloom did your father give to you, if any?
My dad wrote books and some of the books he wrote I now have and I'm very proud to have those. But more than anything, my dad gave me a legacy of something to look up to. He was a man of great integrity on a national scale and was someone I deeply respected. I've spent my whole life trying to emulate the values he taught me as best I can.
What heirloom do you want to leave to your children, if any?
My mother was an artist so I'm excited to leave them some of the sculptures that meant a lot to me. But I would hope the things they really inherit are the memories of the time they've spent with me. All I can hope is that they remember me with love.
Describe the "dad special" for dinner.
BBQ. I make chicken thighs that have been marinating for three days. There is a marinade I get from Whole Foods called Soy Vay and it's delicious.
Are you religious, and are you raising your children in that tradition?
I feel like everyone has to come to faith on their own and I prefer not to speak about my faith on a public forum.
What is a mistake you made growing up that you want to ensure your children don't repeat?
It's tough. Besides the obvious of wanting them to stay away from materials that might be hazardous to their neurological development, there are a lot of mistakes I made that I hope they don't make. Mostly it was getting into cars with drunk drivers. Unfortunately, when I was young, it was something I did regularly. I look back and can't believe how lucky I am to be alive. I really hope that is something my kids avoid entirely. It's such a dumb and unnecessary thing to do.
How do you make sure your children know that you love them?
I tell them all the time. My parents weren't particularly effusive people so I overcompensate terribly by telling my kids constantly that I love them. I have a weird fatalistic streak where I think about myself dying unexpectedly and will often think, "What if this is the last thing I ever say to them?" So I always make sure it's "I love you."
American Housewife airs on Wednesday nights at 9:30 pm ET/PT on ABC. You can also watch on-demand and via streaming.
This article was originally published on