I Put in as Many Hours as I Can to Give My Daughter a Christmas She'll Remember
"If I had to work outside in this weather, I wouldn't care, because this is worth it. My daughter is having the Christmases that I remember. She's as excited as I remember being."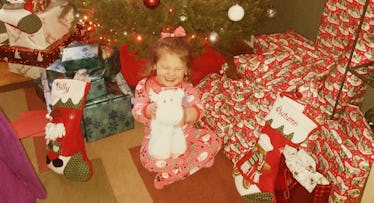 Bill Fuller
The average American family expects to pay around $900 dollars on Christmas presents for their family, which for many is a health care payment, a month of rent, or a credit card bill. Considering the "main event" of the holiday is mostly about opening brand new gifts, that can make the holiday particularly hard. Some parents work through it by buying used presents, by focusing on experiences, and by putting in extra hours at work. Bill Fuller, who lives in North Jersey with his expectant wife and 4-year-old daughter Autumn, does all three. Here, he talks about working as many hours as he can to give his daughter the Christmas he remembers.
I'm 42. I have a daughter who just turned four and I have a baby boy on the way in January. I'm a Christmas junkie. I'm a QC inspector at a medical device company. I'm the lead inspector, so I have the job title of three different people. I work 12 hours a day, five days a week. And I work on Saturdays, 5-6 hours, too. My wife is a guidance counselor. She doesn't get paid in the summertime. She goes back to work in September, and from September to December we're saving for Christmas.
I have excellent memories of my childhood at Christmastime. Things were kind of rough for our family, but my mother and grandmother always made sure that it was always good. I remember sitting on the couch, listening to Frank Sinatra's Christmas albums. I can picture being in that living room still. I want my daughter to have the same things. I want her to think of Christmas as a good time and a happy time when family gets together.
My daughter wakes up at 6 o'clock every morning and I'm already gone. She's at preschool by 6:45, and I work from 5 to 5. So I leave the house at 4:30 in the morning. I get home at 5:30, and she goes to bed at 7:30, but it's absolutely worth it.
My daughter got a letter from "Santa" last week. It mentioned one of her best friends, and it mentioned one of her teachers by name, and she absolutely lost her mind. It makes everything worth it. If I had to work outside in this weather, I wouldn't care, because this is worth it. She's having the Christmases that I remember. She's as excited as I remember being.
On Thanksgiving weekend, on Friday or Saturday, we go and cut our tree and then we go to Cracker Barrel for breakfast afterward. Then we decorate the tree Sunday night of Thanksgiving weekend. It's the only tradition that we had when I was a kid that was every year. It was always the same; it happened at the same time, we always did it, rain or snow. And we decorate the house. My daughter decorated the tree with Christmas baubles as high as she could reach. She's determined. She doesn't mess around, this kid.
I do all my own work on the cars and the house to save money. We go without as far as fancy clothes or fancy anything. We drive old cars that I keep on the road, I save up all year as much as I can. I try not to spend a lot of money. For Christmas, we get her useable gifts, good gifts that are durable, like a bicycle. I got her a telescope last year that she still uses. She's crazy about that. She loves fishing. I bought her a decent pole last year and she still has it. She's very into arts and crafts so we get her stuff like that.
This year, I came across a used Power Wheels Jeep in excellent condition. I stripped all of the stickers off of it and I painted it. She's going to get that for Christmas. She's not going to know that it's not brand new. I'm not going to spend 300 dollars on a Jeep when she's not going to know the difference. She loves to color, so she's getting a big suitcase that has every color crayon, colored pencils, these waxy things, pastel crayons, she loves that stuff. She can have as much of that as she wants.
These wooden things that you paint and glue together. She really enjoys that stuff. The Shopkins, and stuff like Barbie Dolls, she likes to dress them and stuff but she loses interest. I don't want to waste my money on that stuff.
When I get home, we're going to get a fire lit and "Santa's" coming around. We're going to roast marshmallows. She's so stoked, I can't wait. My family is coming up next Saturday and we're gonna do it all again. All she wants is to play "Hippopotamus for Christmas." That's how she wants me to start the music, and then she's happy.
I want my daughter to feel the togetherness of family, of the anticipation of coming down the steps and seeing the tree with the presents under it. The whole season is something that I want her to love. When she sees the first Christmas lights up, I want her to get that feeling that I get. Nothing seems to get to me. It's just a really, really happy time for us.
— As Told To Lizzy Francis
This article was originally published on