Feeling Anxious? Here Are 10 Free Meditation Apps That Can Help
Life is stressful right now. These ten apps that can help you cope.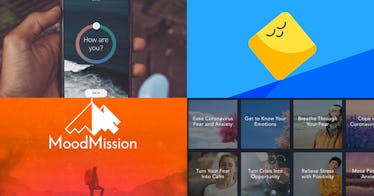 School closings. Social distancing. Scary news story after scary news story. The Coronavirus pandemic has transformed our lives dramatically. With such drastic change, stress is normal. But it's important to take measures to ensure that stress doesn't spiral into anger, anxiety, and other negative emotions. Luckily, a number of powerful stress management apps and mental health apps have lifted their paywalls for a number of months so everyone can benefit from their services right now. These meditation apps and apps for anxiety use such therapies as Cognitive Behavioral Therapy, diaphragmatic breathing, Acceptance Commitment Therapy, and guided meditations to help lessen anxiety in trying times. Here are 10 apps to try.
Sanvello (Formerly Known as Pacifica)
Sanvello, formerly known as Pacifica, was rated one of 2017's best mental health apps, is offering free premium access to all users due to the COVID-19 pandemic and the mental stresses that this situation has put on everyone. Sanvello offers clinically-tested features such as daily mood tracking, a feature where patients can answer some questions to write about their current mood so they can identify mood patterns and self-assess their mental state, and guided journeys to help them with their specific anxieties. The app, through a series of modules, helps people learn techniques to manage their anxiety and depression, uses CBT techniques to help users identify their negative thought patterns, change their interpretations of their thoughts, and helps them learn mindfulness meditations. The app also provides progress assessments so users can see how far they've come — and what they can do to move forward to set goals to help cope with daily stresses and anxieties.
Headspace, created by a former monk, usually costs $12.99 a month, has made all of its services free during the Coronavirus outbreak. With Headspace, users first learn a variety of meditation and mindfulness techniques through a free course. Then, they can subscribe to the rest of the app's offerings, which features miniature guided meditations and mindfulness exercises. The benefits of Headspace also clearly comes from the sheer range of different mindfulness exercises and meditations: there are hundreds of meditation offerings from basic guided meditations to meditations to follow when cooking, eating, or commuting (not as relevant right now, but could be again, someday soon.) Plus, they're extremely accessible in their sheer brevity: many of the meditations are 10 minutes or less.
Simple Habit is a meditation-only platform that provides dozens of different mindfulness prompts to help people fight stress and gain perspective. The classes include everything from exercises to do before a major event, to those that help increase mindfulness during sex. Last week, Simple Habit announced a free premium membership for anyone during the Coronavirus pandemic, and also launched a series of Coronavirus anxiety-related meditations. With them, users can learn such tactics as how to breathe through their fear (a 14-minute meditation led by a LPC Julianne Schroeder) and how to overcome anxiety about sickness. Meditations can be repeated over and over or users can try a new one every day based on how they are feeling.
TalkSpace is a straightforward teletherapy app that enables users to text licensed therapists. When users sign up, they answer a few simple questions about the issues they're facing and are sent a list of recommended therapists that they can choose from. Then they can start messaging their therapist. Users can reach out to a therapist whenever they need to, and no appointments are necessary. Usually the service costs $25 a week, but right now, Talkspace is offering the first seven days free and is also offering $100 off in total through their website. The company is also posting a number of helpful videos on their Instagram channel to assist people.
Breathe2Relax, developed by the Department of Defense is a stress management app that's dedicated to diaphragmatic breathing. The app guides users through a variety of exercises led by knowledgeable experts. The practice of deep breathing in which a person contracts their diaphragm and fills their belly with air, diaphragmatic breathing is a commonly-used anxiety management exercise that slows the heart rate and helps stabilize blood pressure. It's a powerful technique to use when feeling anxiety-ridden as it works with the heartbeat and the physical reality of the body, rather than by focusing on thoughts and feelings.
In light of the coronavirus pandemic, Aura, which describes itself as the "Spotify for mindfulness," is offering a completely free membership for three months with the code "FINDPEACE2020." Users of Aura input their emotions when they open the app — "okay," "anxious," "can't sleep", "great," etc. —and are connected with mindfulness meditations, stories, nature sounds, and a gratitude journal to increase positive thoughts and dispel negative thinking. The app also specifically helps people who are struggling to sleep due to anxiety and stress. Some meditations are as short as three minutes, making this mindfulness-on-the-go app good for even the busiest-stay-at-home parent.
Stop, Breathe, Think offers daily meditations for both beginners as well as those familiar with meditation. The exercises range in length from 1 minute to an hour, and are available for both kids and adults. There are yoga and acupressure videos and users can also log in their mood before they do a meditation to see how they progress with their anxiety over time. Stop, Breathe, Think also features more than 20 meditations in Spanish for non-English language or English as a second language speakers.
What's Up is a mental health app that focuses on Cognitive Behavioral Therapy (CBT) and Acceptance Commitment Therapy (ACT) to help ground users in the moment and lessen their feelings of dread and anxiety. Useful features include a comprehensive diary where users enter their thoughts and feelings and rate them on a scale of one to 10, a positive and negative habit tracker, a catastrophe scale that helps users put their problems in perspective , and a grounding game that features 100 fun questions (like "Name 5 cold countries," etc) to help those suffering anxiety think less about their worries and focus on the moment.
MoodMission is a mental health app that has a very simple premise: when a user opens the app and tells the app how it's feeling, they'll get a tailored list of 5 simple and small things that they can do to feel better. While some of the list items might be inaccessible due to shelter-in-place orders and the like in the pandemic, much of it is very doable and super quick. Some options include cleaning a room, walking around the block, listening to a class online, or visiting a favorite website. If, for example, the app suggests that a user does some high-knees or a stretch for an exercise, it will also explain why that movement will help anxiety lessen. Completing each 'MoodMission' also earns rewards in the app — which feels silly, of course, but at the end of the day, any small steps that we can take to take better care of our mental health are deeply meaningful in a time like this.
This article was originally published on